Hundreds join city's 1st St Patrick's Day parade in Macau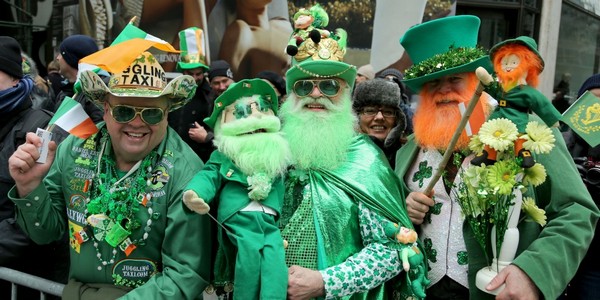 Macau's first ever St Patrick's Day parade, hosted by the Consulate General of Ireland in Hong Kong and Macau, attracted over 200 spectators around the Taipa Houses Museum on Sunday.
Over 100 performers, many of them Irish living in Macau, took part in the parade, which was followed by a string of performances including a lion dance, singing and Portuguese folk dance. Several members of the Hong Kong Police Band were also invited to perform during the parade.
St Patrick, born in Roman Britain, was a fifth-century missionary credited with taking Christianity to Ireland. It is believed that he died on March 17.
Addressing the spectators and performers during the event, Críona Ní Dhálaigh, the incumbent, 346th Lord Mayor of Dublin, said the festive atmosphere in Macau was as good as that in the Irish capital.
Meanwhile, dressed as the saint during the event, MGM Macau Vice-President of Table Games Michael Clifford, an Irishman who has been working in the city for over 15 months, told reporters that he was excited to see the cultures of Macau and his country come together in the parade. "There's a very strong Irish community [in Macau], and it's lovely that we have our first St Patrick's Day here," Clifford said, adding he thanked the local government for its support of the parade.
(macaunews/macaupost)