Cultural Bureau of Macau to create a "better cultural scene" trough new projects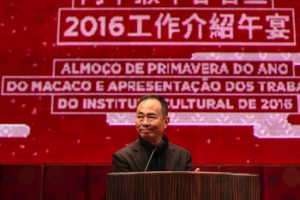 The Cultural Affairs Bureau (IC) is keen to revitalize the territory this year by organizing several initiatives.
During IC's Spring Luncheon, held on Monday at the Grand Lisboa Hotel, the bureau introduced projects that are divided into six different areas: "New Cultural Scene," "Cultural Heritage," "Cultural and Creative Industries," "Cultural Events," "Public Libraries," and "Culture dissemination by Education."
The president of the IC, Ung Vai Meng said in his opening speech, "This year, the importance of cultural works is even greater. With the integration of Macau's cultural resources and the centralization of cultural facilities and services under one management [the IC], we will work to create a better cultural scene for the public."
Referring to some of the most highlighted projects, the IC head also said, "this year marks the restoration projects of several cultural spaces and library facilities and revitalization projects such as the Patane Library, No. 80 of the Rua das Estalagens [Old Pharmacy Chong Sai building, said to be Sun Yat Sen's former workplace] and the Maritime Workshops." These buildings are expected to be open to the public before the end of the year.
Regarding the cultural and creative industries, Ung also announced the launching of a new program aimed to support the production of "Original Animation Short Films." This will contribute to the already established and continuing subsidized programs for "original song albums," fashion design, and film production.
The so-called "Visible Cultural Forces," that the IC hopes to be the motto that will enliven the Macau cultural scene, are also the key words for a new promotional video by the IC that was shown for the first time on Monday.
In the video, the bureau presents its goals for the year that include several innovations. One of them is that the IC will replace the Civic and Municipal Affairs Bureau (IACM) in organizing the Lusofonia Festival that is usually held at the Taipa Houses-Museum and Carmo Area in Taipa.
(Macaunews/macaudailytimes)