Carmo area to be revamped into entertainment hub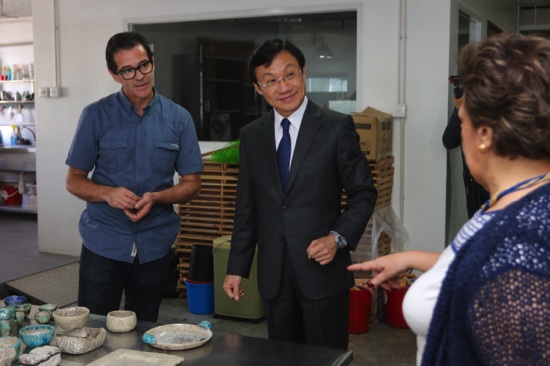 The Secretary for Social Affairs and Culture stated that the government intends to revamp Taipa's Carmo area and find a new use for the Taipa Houses–Museum.
During a visit to the facilities that are being used by the House of Portugal (Casa de Portugal) in the Areia Preta district, Alexis Tam revealed that he plans to invite the association to be part of a government project that aims to boost the "Carmo" district in Taipa, namely the Taipa Houses–Museum.
"I want to invite the House of Portugal to be part of our project exploring the area of the Houses-Museum where we will develop a Portuguese restaurant as well as a Portuguese-style coffee shop and esplanades," he said.
But Mr Tam went even further and announced that he wants the activities in the area to be happening day and night with "Portuguese music performers to play in the area every night". The offer will not be restricted to the Portuguese. The Secretary also mentioned that they are considering creating food festivals for different countries from Europe, Latin America or even Asian countries, in order to "transform the area into a multicultural venue".
It is known, and was referred to again by the President of the House, Dra Maria Amélia António, that the House of Portugal has been struggling since 2013 when its Portuguese restaurant "Lvsitanvs" had to temporarily close its doors. The restaurant and all other tenants of the yellow building, located close to the Ruins of St Paul, had to leave the space that was rented by restaurant operator Future Bright Holdings to the Macau Government Tourism Office.
The move left the association with a high amount of financial debts resulting from the investments required for the opening and setup of the space. The Portuguese association head sees the government's invitation as "an opportunity to bring back to life a project that has previously proven to have potential and that since the closing has been continued in poor conditions [at Casa de Portugal's headquarters]".
Mr Tam praised the association and said the government will continue to support it. "I recognize the role of the House of Portugal in Macau. It is very important and very positive. I have been following the activities undertaken and developed by it and I think that the government, and especially my secretary, should continue to support them," he said.
According to the figures presented by the association, about 700 people attend its training courses and workshops every year, which for Alexis Tam is "a very significant number."
(macaunews/macaudailytimes)