Asian film awards to be held this Thursday night in Macau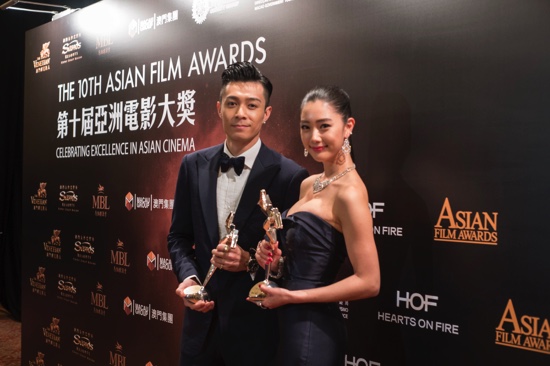 The Asian Film Awards (AFA) Ceremony to be held this Thursday at the Venetian Macao.
This year the Asian Film Awards Academy will partner with the acclaimed U.S. luxury jewelry brand, Hearts On Fire, to present the "Hearts On Fire-AFA Special Awards" to recognize the achievements of outstanding icons in the Asian film industry.
Two Rising Star of Asia Awards were presented to Hong Kong singer-cum-actor Pakho Chau and Korean actress, Clara Lee, at a Wednesday welcome dinner.
Receiving his first movie award Wednesday, Pakho started his career as a teenage model for luxury brands, and made his debut as a singer back in 2007 and his screen debut in "Love is Elsewhere" in 2008.
His roles as a fervent young doctor in "I Sell Love," a cheating husband in "S for Sex, S for Secret," and a billionaire in "Love Detective" made a lasting impression on audiences. But 2015 was the real breakthrough year for the actor after he was highly acclaimed for his role as Elephant Man, a cold-blooded killer in "Guilty."
Meanwhile Swiss-born British actress, Clara Lee, has previously starred in many TV drama series since 2005, and made her big-screen debut in "Five Senses of Eros" in 2009.
She also made a spectacular presence in Hong Kong by starring in her first action film, "Line Walker", and in "Prince," in which she partnered with actors from mainland China, Hong Kong and Taiwan.
She told reporters that she has visited Macau a few times before, but this was her first visit for work.
Iconic Japanese actress Kirin Kiki, renowned for her work in cinema and television, was also present at the welcome dinner. She is being considered for the Lifetime Achievement Awardtonight, alongside Yuen Woo-ping, a martial arts choreographer and film director from Hong Kong.
(macaunews/macaudailytimes)