30th Macao International Music Festival to take place in October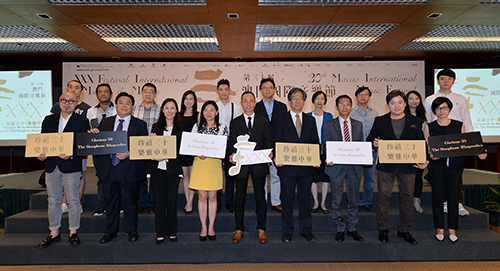 Details for the 30th Macao International Music Festival (FIM) were unveiled Thursday at the Center of Tourism Activities, with 20 programs and 27 performances set to be part of the annual event.
The festival will be held at a variety of cultural locations around Macau, including Arte Nam Van, the Macao Museum, the Dom Pedro V Theater and the Macao Cultural Centre.
The Festival will be held between October 1 and 30 organized by the Cultural Affairs Bureau (IC).
The 30th anniversary of the festival will see the gathering of musicians and music experts from Russia, U.S., Germany, France,MU.K., Portugal, Mongolia, Taiwan, mainland China, Hong Kong and Macau.
The theme for this year's edition is "Glorious 30 – The Sinophone Rhapsodies," and aims to present "the usual renowned classics" as well as several works of "ethnic appeal," according to a statement from the IC.
One highlight piece is called "Voice from the Mongolian Steppe," and will be performed by the Mongolian State Morin Khuur Ensemble representing the experience of nature, history and the life of Mongolians.
A special piece will also be held in honor of the 400th anniversary of the death of the great Chinese playwright, Tang Xianzu. The festival has specially produced the opera "A Dream of Fragrancy", a home-grown adaptation of the playwright's traveling experience to Macau in 1591, to be led by local artists.
For the 30th anniversary of the Macao International Music Festival, organizers are planning to host a forum to examine how international arts festivals and events contribute to the sustainable development of a city.
The president of the IC, Ung Vai Meng, said that these efforts contribute toward "the broadening of the horizons of the city to a global level and enhancing the artistic humanism of citizens."
Among the performers participating in the "meet the artist" sessions are Lawrence Ku, a renowned guitarist, composer and educator in China, and Eugene Pao, a well-known Hong Kong jazz guitarist who has played with leading international jazz musicians in the past.
In addition, "Mount Fortress" will host Portugal's new rising star of fado, Carminho, jazz trumpeter Roy Hargrove who will play several works by jazz giant Miles Davis, and a jazz concert performed by musicians from the four Cross-strait regions.
This year's festival budget stood at MOP38 million (US4.7 million).
(Macau News / Macau Daily Times)