Walk-in Covid-19 jabs open to all starting this Saturday
Walk-in Covid-19 jabs open to all starting this Saturday

Link copied
No quotas at any of the 18 vaccination facilities; jab-or-test ruling for public servants starts on Monday.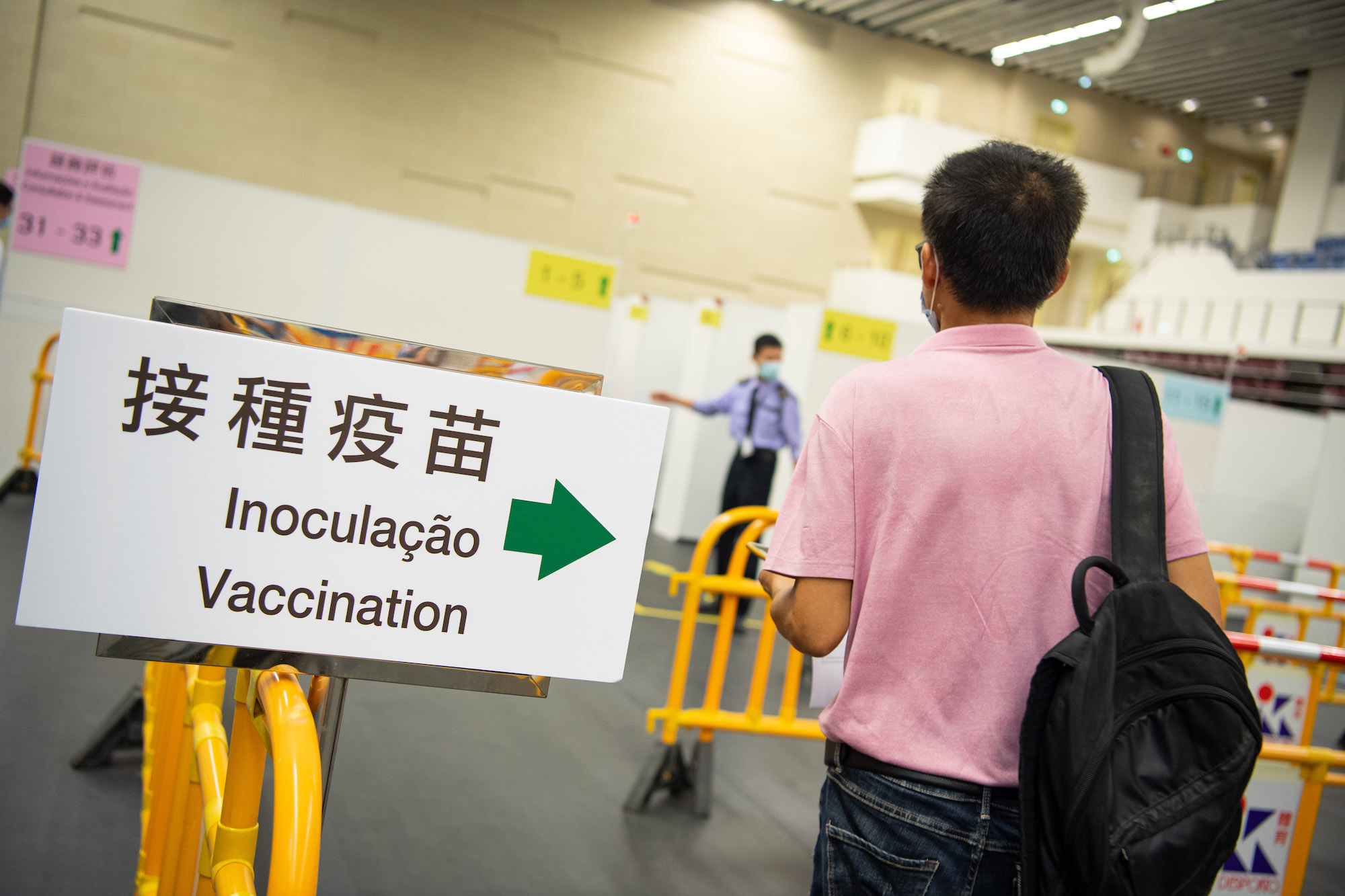 Walk-in Covid-19 jabs will be available for everyone at all inoculation facilities in the city from tomorrow.
Tai Wa Hou, a clinical director of the Conde de São Januário Hospital Centre, said that those who had booked an appointment would be given priority over walk-ins, and they would be divided into separate queues. There will be no quotas.
Macao's free Covid-19 vaccination drive covers local residents, non-resident workers and non-local students. All other non-locals who hold a permit to stay in Macao, such as the family members of non-resident workers, have to pay MOP 250 per jab.
Tai said that the Health Bureau (SSM) will release real-time information listing the number of people queuing at each of the 18 inoculation facilities and the expected waiting time, which potential vaccinees can check on the bureau's online appointment system.
Tai announced that residents can obtain an officially-recognised doctor's certificate confirming their unsuitability for Covid-19 vaccinations either by being assessed at one of the 18 regular vaccination facilities, or by making an appointment at the outpatient department of the Conde de São Januário Hospital Centre or any health centre or health station. Residents can also opt for a walk-in assessment.
The SSM issued new guidelines last week on Covid-19 vaccinations and nucleic acid testing (NAT), requiring almost the entire working population in the city, both  in the public and private sectors, to be tested once every week, or even more frequently, if they have not been inoculated against the novel coronavirus.
All public or private bodies have to draw up their own rules that enable them to implement the new measure. The new jab-or-test ruling will start for public servants next Monday, so those who have not been inoculated against the novel coronavirus are required to be tested for every seven days. 
Only those who hold a doctor's certificate confirming that they are unable to be vaccinated against Covid-19 due to certain health reasons can have their NAT cost exempted. Public servants who refuse inoculation without a health reason will have to pay for the tests themselves. A nucleic acid test costs MOP 80.
Tai also announced that if doctors are unable to decide whether a person is able to receive a Covid-19 jab, they will pass the case to a special SSM working group. The working group will assess the case and normally make a decision within two weeks. If necessary, Tai said, the working group will arrange a meeting with the person asking for a certificate.
Tai added that the SSM had issued 913 people with a doctor's certificate confirming their unsuitability for Covid-19 vaccinations, 517 of whom are public servants. Tai said that the major reason for obtaining a doctor's certificate is pregnancy, accounting for one third of the 913 certificates. A certificate for pregnant women is valid until the expected time of giving birth, Tai said.
Other people who have obtained such an exemption certificate include chronically-ill patients in a serious condition and cancer patients who are receiving radiotherapy or chemotherapy.
According to Tai, only an absolute contraindication to Covid-19 vaccine enables the issuing of such a certificate with a permanent validity as people with this absolute contraindication are permanently unable to be vaccinated against Covid-19, while a certificate due to all other types of health reasons is only valid for a certain period of time.
Tai said that a certificate for Covid-19 jab unsuitability for cancer patients receiving radiotherapy or chemotherapy will be valid until they complete the treatment, while the validity of the certificate of those with a chronic disease will last until their serious condition improves. Tai also said that normally those with a fever due to a cold will be issued with an unsuitability certificate valid for one week, reported The Macau Post Daily.