Under-utilised HZMB finds it difficult bridging the gap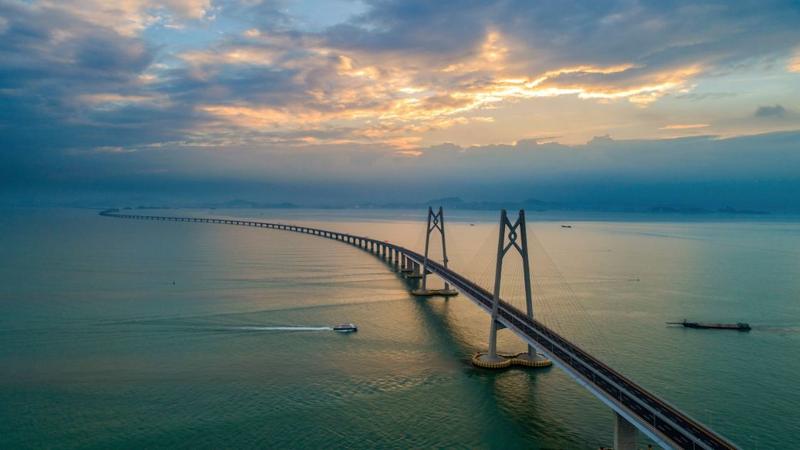 The world's longest sea-crossing in southern China is set to celebrate its second anniversary on Saturday with less than one-tenth of the expected traffic flow.
The 55-kilometre Hong Kong-Zhuhai-Macao Bridge (HZMB), spanning the jurisdictions of Guangdong province and Hong Kong and Macao special administrative regions, opened on 24 October 2018. While an average daily vehicular flow of 3,494 and 4,167 was registered in 2018 and 2019, respectively, that number plunged to fewer than 400 vehicles between April and July this year as per data from the Hong Kong-Zhuhai-Macao Bridge Authority, the bridge's operator.
In 2008, when the Hong Kong government released a feasibility report for the bridge, it was estimated that on the second year of its operation, at least 9,200 vehicles would be using the bridge on a daily basis.
Costly upkeep
The COVID-19 pandemic is not singularly responsible for the striking underutilisation of HZMB. At the end of 2019, when the coronavirus had not yet reared its head, the bridge had already recorded an average daily traffic flow of around 4,000, according to Hong Kong's Transport Department. This number is less than half of its estimated minimum capacity.
About HK$2.5 billion (US$322 million) was to be spent yearly to keep the bridge operational, according to a 2017 report from the Guangdong government. However, toll fees, the bridge's major source of revenue, plummeted in 2020, owing not just to the significantly depleted traffic but also a toll waiver that was in place from late January to early May.
Toll charges on vehicles on the bridge range from 60 yuan (US$9) for goods vehicles, to 300 yuan for shuttle buses. Private cars cost 150 yuan per trip.
Authorities have not disclosed whether or how much the Hong Kong government pays for the bridge's operational costs. Hong Kong shared about 43 per cent of the main bridge's construction cost.
Becky Loo Pui-ying, director of the University of Hong Kong's Institute of Transport Studies, said the bridge's low traffic did not result from a lack of demand. In a response emailed to China Daily, she attributed the situation to stringent controls imposed by the three governments.
"In any case, we won't expect a major piece of regional infrastructure, such as container ports, railway extensions and airports, to operate at their full capacity in the first two years," she said.
Pointing out the different customs regimes and varying road transport network capacities of the three jurisdictions, Loo called for tripartite negotiations that could help "ensure a sensible and gradual increase" in vehicular traffic along the bridge.
Congestion concern
Chief Executive Carrie Lam Cheng Yuet-ngor conceded that not many Hong Kong cars were heading north by way of the bridge these days. She pointed out that a single major expressway links Hong Kong's downtown areas to Lantau Island, where both Hong Kong International Airport and an HZMB checkpoint are located.
On the sidelines of a press conference on Tuesday, Lam said her government is worried that if more local cars were granted access to the bridge, the only road to the airport – North Lantau Highway – would be easily congested.
"Our plan has always been that after the opening of the second expressway to Lantau Island – Tuen Mun–Chek Lap Kok Link – which I think can come into service at the end of this year, we can consider allowing more Hong Kong cars on the bridge," Lam said.
"There are technical problems that remain to be solved, such as whether the driver should be a holder of driving licenses of all three jurisdictions, whether the automobile insurance should be valid in all three jurisdictions … We will try to hammer out these arrangements as early as possible."
She also noted, however, that it is not feasible to allow more vehicles from the Chinese mainland to enter Hong Kong through the bridge, given Hong Kong's limited urban space.
In a 9 September reply to Cally Kwong Mei-wan, a Hong Kong deputy to China's top legislature National People's Congress, the Guangdong provincial government said there are about 78,000 vehicles in the province and Hong Kong eligible to use HZMB, and 90 per cent of them are Hong Kong cars.
As per Hong Kong government data, 15,000 Hong Kong private vehicles have permits to go to Zhuhai and another 800 private cars to Macao.
A matter of quotas
Ryan Ip Man-ki, head of land and housing research at policy think tank Our Hong Kong Foundation, told China Daily in text messages that the daily traffic flow along HZMB would be likely to rise if the government were to increase the quota for private cars once the much-awaited Tuen Mun-Chek Lap Kok Link opens and eases the traffic pressure on the North Lantau Highway.
The HZMB quota criteria have long been criticised as too stringent. Eligible applicants must be high-tech investors, top academicians, politicians and philanthropists.
In the long run, Ip said cargo truck flow is very important, and thus developing integrated logistics nodes in strategic locations near HZMB, such as in Tuen Mun West and Lung Kwu Tan, would be an ideal solution.
Stanley Chaing Chi-wai, chairman of Lok Ma Chau China-Hong Kong Freight Association, blamed the weak flow of goods vehicles on Macao's poor customs infrastructure, a high eligibility threshold for a mainland automobile license and unreasonable two-way toll fees.
Speaking to China Daily over the phone, the logistics expert said that given the hurdles, many carriers choose to ship their goods by sea, while ordinary travellers, rather than driving private cars through the bridge, tend to use public transportation such as ferry.
Contrasting HZMB with the Shenzhen Bay Bridge, a free-of-charge sea crossing with border checkpoints linking Hong Kong with Shenzhen, Chaing suggested a blanket waiver of toll fees.
"For the Greater Bay Area's long-term development, the governments should not be hung up on an old mindset of 'cost-effectiveness' because the bridge can bring in tremendous economic benefits, far outweighing it operational cost," he said.
(China Daily)
PHOTO © China Daily