'Last kilometre' of Covid-19 prevention work has just started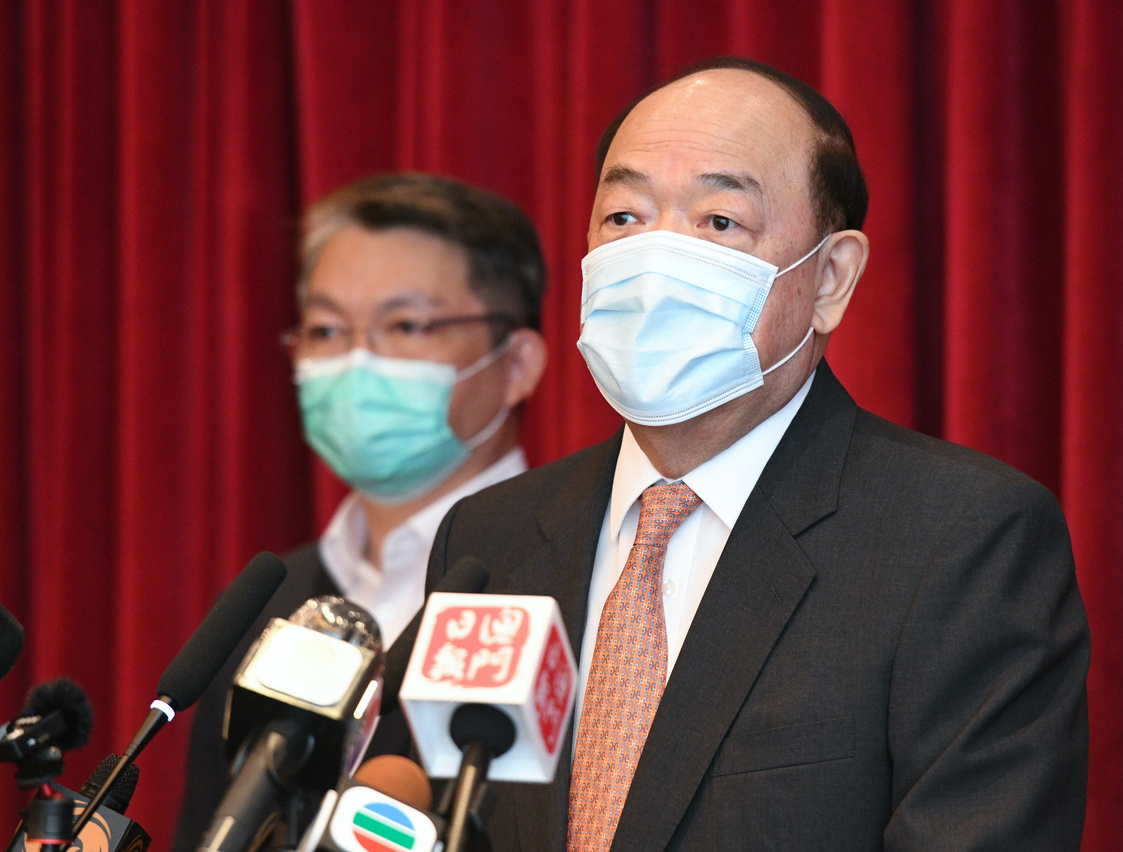 Chief Executive Ho Iat Seng said on Wednesday that Macao has been doing great at its Covid-19 prevention work, yet the "last kilometre" of the city's Covid-19 battle has just started.
Ho made the remarks while speaking to reporters at the local airport on Wednesday morning before departing for a six-day working visit to Beijing for meetings with central government representatives to discuss the development of the Guangdong-Macao Intensive Cooperation Zone planned for Hengqin island and exchange views on anti-Covid-19 measures.
During the 23-minute press briefing in a room at the airport, Ho covered topics such as Macao's Covid-19 prevention work following the resumption of the processing of mainlanders' tourist endorsements for individual visits or group tours to Macao, the joint Macao-Hengqin checkpoint that will open next Tuesday, the city's economic recovery and Macao's gaming concession bidding process in the future.
Covid-19 prevention work
Wednesday was the first day for the resumed processing of Zhuhai residents' tourist endorsements to Macao. Ho underlined, however, that Macao needs to continue with its Covid-19 prevention work. He pointed out that the local government has been doing risk assessment, noting that it has already announced that the mainland's quarantine lifting for arrivals from Macao will be suspended if Macao's Covid-19 epidemic rebounds.
The new Macao-mainland joint border checkpoint on Hengqin Island will come into service next Tuesday when Macao's Lotus Flower checkpoint in Cotai will be relocated there.
Ho said that the Macao government will still keep the Lotus Flower checkpoint as a back-up checkpoint facility after the new joint Hengqin checkpoint opens, in case some problems may happen at the new facility the Lotus Flower checkpoint could be used again as a "supplementary" checkpoint. Ho said that if the new Hengqin checkpoint keeps operating smoothly, the Macao government will convert the Lotus Flower checkpoint into a building to be used by the government for other purposes.
Asked by reporters when Macao will lift its compulsory mask-wearing policy, Ho said that the general public needed to be more patient. "The government gave out 30 facemasks [in its facemask sales scheme for each resident and non-resident worker] this month, meaning that for the rest of this month people are expected to be wearing facemasks," he said, predicting that the city's facemask-wearing policy will be around for a while.
He stressed that the Covid-19 battle has reached its last kilometre, however he was quick to add that it has just started. He said that people should still be cautious and continue their Covid-19 prevention work.
"It is better to be able to go around with a facemask than not being able to go out at all," Ho said. He also acknowledged that it's inconvenient for residents having to present their Macao Health Code when entering certain buildings, "but this is all necessary."
When asked if Macao would lift its entry ban on foreign visitors, Ho said that for the time being the Macao government has no plans to open the border for foreign visitors as the Covid-19 pandemic is still serious. He said that the Macao government would only consider lifting its entry ban on visitors from particular countries if they have not confirmed new local Covid-19 cases for 130 days or more – like the situation in Macao. However, he said that almost no countries in the world have achieved this so far.
According to the Health Bureau, Macao has not confirmed a new local case of 136 days.
Macao's economy
Ho noted that Macao's gross domestic product (GDP) in the second quarter dropped by 67.8 per cent year-on-year, while it declined by 58.2 per cent year-on-year in the first six months of this year. He noted that during the Covid-19 pandemic, Macao has been experiencing a recession and a rising unemployment rate. He said he hoped that having mainland tourists coming back could improve the city's GDP. However, he said he could not predict how many mainland visitors will be coming. "We don't even know whether they are willing to come and visit," Ho said.
He said even though having tourists from the mainland could improve the economy, he did not think this year's economy could go back to last year's level, pointing out that there are only a few months left before the current year is over.
When asked whether the Macao government will roll out additional financial support measures for residents, Ho said that the government was not planning to launch new financial support programmes. He pointed out that the issuing of Individual Visit Scheme travel permits for all mainlanders will resume on 23 September, adding he thought that this would amount to a transition from businesses supported by local residents to businesses supported by visitors as the "Macao Ready Go! Local Tours" programme will end on 30 September. Ho emphasised that if everyone continues to do their part in Covid-19 prevention, Macao will "do a lot better" in the future.
When asked if Macao's gaming concession bidding process was on the meeting agenda with central government officials during his visit in Beijing, Ho said that the Macao government needed to put the city's economic recovery as its priority. He stressed that his delegation would not discuss the topic of the gaming concession bidding process with central government officials during this visit.
Hong Kong national security law
Ho also underlined that the local Law on the Defence of National Security, which was enacted in 2009, is based on the Article 23 requirement of the Macao Basic Law, which means that Macao has completed its constitutional duty on this matter. He added that there was room for possible improvements to the current local national security law, and stressed that the Macao government won't propose amendments to Macao's local national security law in line with Hong Kong's national security legislation.
Moreover, he said he couldn't absolutely guarantee that the police would never enter media company premises. He added that he has no authority to stop or prevent such thing from happening, but he ensured that if similar incidents ever happened in Macao they would be carried out in accordance with the law.
Ho made the remarks after a local reporter had asked him during the briefing if he could guarantee, in the wake of what happened in Hong Kong earlier this week, that no Macao police officers would ever enter local media firms' offices.
(The Macau Post Daily/Macau News)