Thousands of Taipa residents to take NAT before midnight
Thousands of Taipa residents to take NAT before midnight

Link copied
Emergency mass-testing follows discovery by authorities in Zhuhai of Taipa supermarket worker with Covid-19; elderly, disabled and young children included in drive.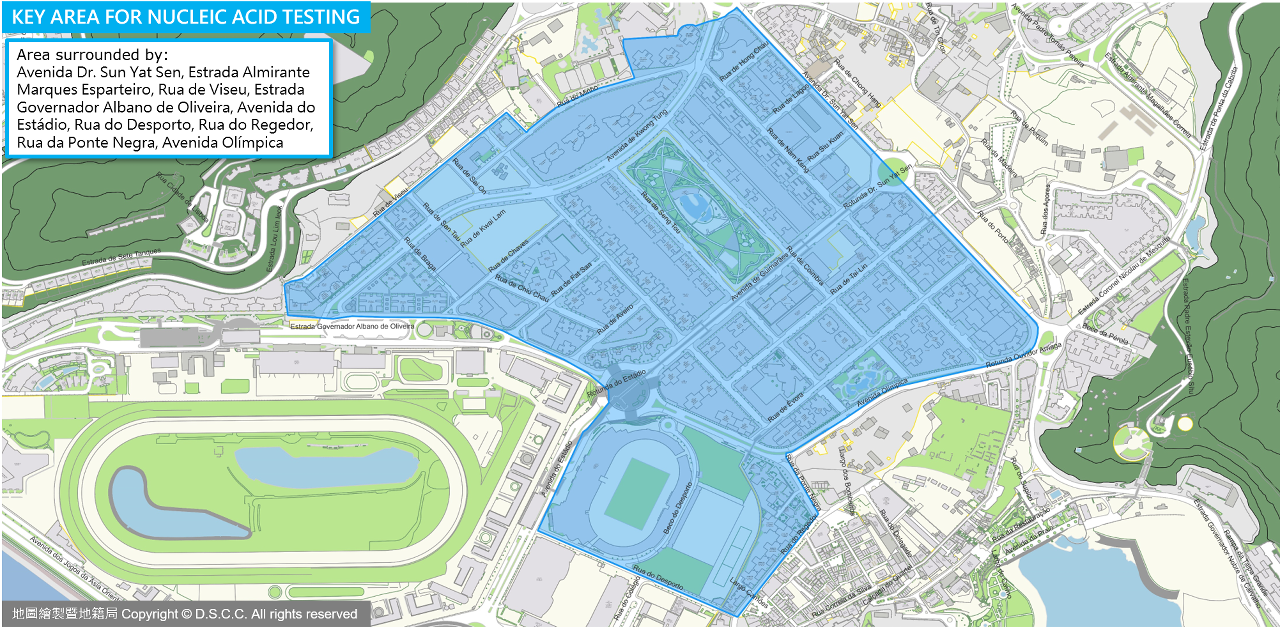 A huge swathe of Taipa has been declared a key area following a positive Covid-19 case that was found in Zhuhai, involving a person who works at Grand Mart supermarket in Taipa.
The Novel Coronavirus Response and Coordination Centre said that although the patient had tested negative in the last dozen nucleic acid tests (NAT) in Macao before 4 August, the risk of transmission in the areas where the person lives and works cannot be ruled out. 
While the building where the person lives has been placed on lockdown earlier today, after Macao health authorities were alerted by their counterparts in Zhuhai, the area surrounding the workplace is now a key area for mandatory NAT. 
Everyone who lives or works in the area surrounded by Avenida Dr Sun Yat Sen, Estrada Almirante Marques Esparteiro, Rua de Viseu, Estrada Governador Albano de Oliveira, Avenida do Estádio, Rua do Desporto, Rua do Regedor, Rua da Ponte Negra and Avenida Olímpica must now undergo a NAT.
In addition, anyone who stayed in the area for more than half an hour on or after 3 August, including people who visited the bakery inside Grand Mart, must also do a NAT. 
The drive was launched at 3:30 pm today and will run until midnight tonight. 
Infants and young children born after 1 July 2019, as well as the elderly and the disabled who have difficulty in walking or need care from others, are not exempted from the mandatory NAT drive. 
Those who have participated in the NAT drive for key groups today are not required to repeat the test. 
According to the Centre, a text message will be sent out to people living in the key area reminding them to book for the test. Those failing to take the test will be assigned a yellow health code tomorrow. 
Everyone must take a rapid antigen test (RAT) and upload the result onto the Macao Health Code before going to the testing centres. Only those with negative results will be allowed to enter the testing centres, while people with positive RAT results must immediately call 119, 120 or 2857 2222 for assistance. 
Meanwhile, Zhuhai authorities announced that starting at 6 pm today, all people entering the city from Macao will have to undergo a NAT at their own expense upon arrival.