Melco launches 'Made-in-Macao' initiative to support local SMEs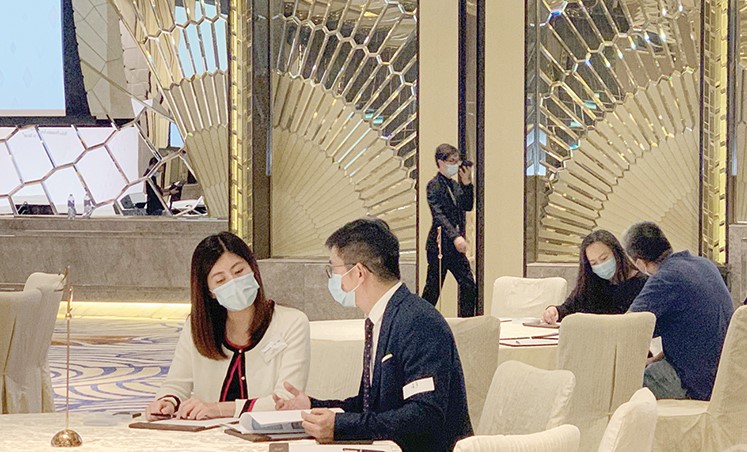 Melco Resorts and Entertainment has launched a "Made-in-Macao" initiative to support local small and medium-sized enterprises (SMEs) by promoting new local production and manufacturing industries, Executive Vice President and Chief Financial Officer Geoffrey Stuart Davis said on Wednesday.
Davis made the remarks via a Zoom video conference call during Wednesday's"Melco Promotes New Industry: Local Production and Manufacturing" event at Studio City's Grand Ballroom.
Davis said that the challenges brought about by the Covid-19 pandemic reinforce the significance of government policies promoting economic diversity, adding that therefore his company is launching the new initiative to help create business opportunities for local SMEs that supply Melco.
Moreover, according to a statement handed out during Wednesday's event, Melco held a facemask and red envelope design competition this year in conjunction with the Macau Productivity and Technology Transfer Centre (CPTTM) to promote opportunities for local design talents, suppliers and manufacturers. The statement also said that the winning designs will be wholly produced and manufactured in Macao by local enterprises, adding that the initiative demonstrates Melco's commitment to strengthening Macao-branded industries and the promotion and upgrade of local production and manufacturing. Melco is inviting local manufacturers to produce the facemasks designed by the winners.
Melco's Vice President of Supply Chain Augusta Vargas-Prada noted that since 2019 her company has been supporting local SMEs. She added that Melco supports locally made products by using local food and beverage suppliers, adding that Melco uniforms are also "Made-in-Macao".
A participant in the SMEs business matching session surnamed Leong told reporters on the sidelines of Wednesday's launch that her company has joined Melco events in the past which has positively affected her shops' sales. Leong said that her shops mainly sell everyday-use items such as batteries, shampoo and facemasks. When asked whether she had taken part in the Melco's facemask production, she said that her shops were small and medium-sized enterprises and did not have a factory in Macao to produce "Made-in-Macao" facemask, therefore she wasn't qualified to manufacture facemasks for Melco.
(The Macau Post Daily/Macao News)
Photo by The Macau Post Daily/Prisca Tang