Macao's secret oasis: The Lou Lim Ieoc Garden
Macao's secret oasis: The Lou Lim Ieoc Garden

Link copied
Lou Lim Ieoc Garden is one of the city's most treasured green lungs: but how it came to be, and what became of the family that first built the park, is a tale stranger than fiction.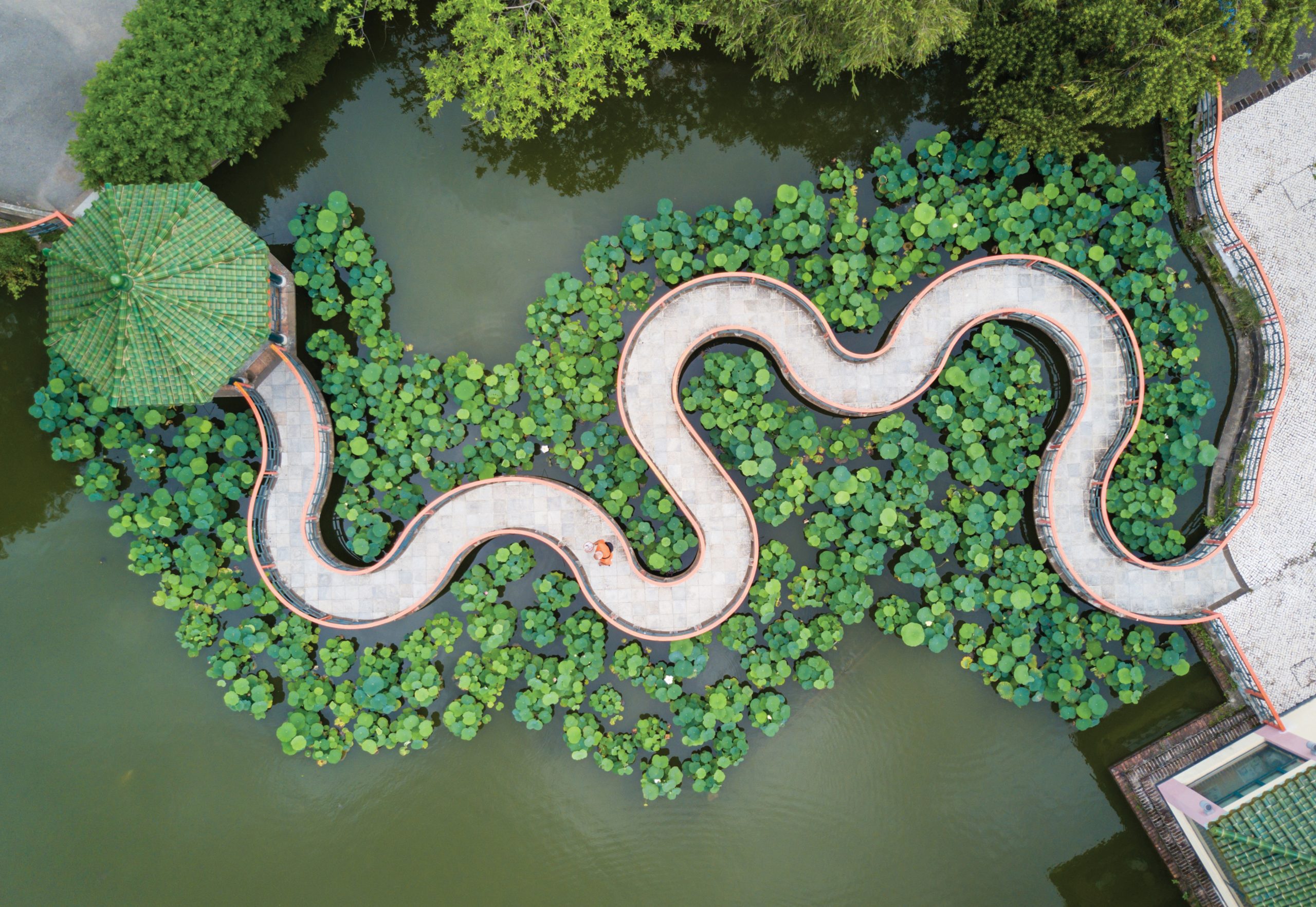 Macao's most picturesque green space, which was modelled on a classical Suzhou garden early last century and cost slightly more than an emperor's ransom, lies at the bottom of Guia hill in the parish of São Lázaro, a metropolitan oasis with a secret history.
Lou Lim Ieoc Garden is an intriguing extravagance of trees, ponds, pavilions, rock sculptures and small walkways made all the more bucolic by the concrete tower blocks which hover just beyond its boundaries. It is the fruition of a dream of one family patriarch, Lou Wah-siu, who'd amassed the sort of fortune that would have propelled him to top of the rich lists had such things existed in the late 1800s.
But how the park was built – and what became of Lou the super-tycoon and his descendants – is one of Macao's most intriguing little-known legends.
Dawn chorus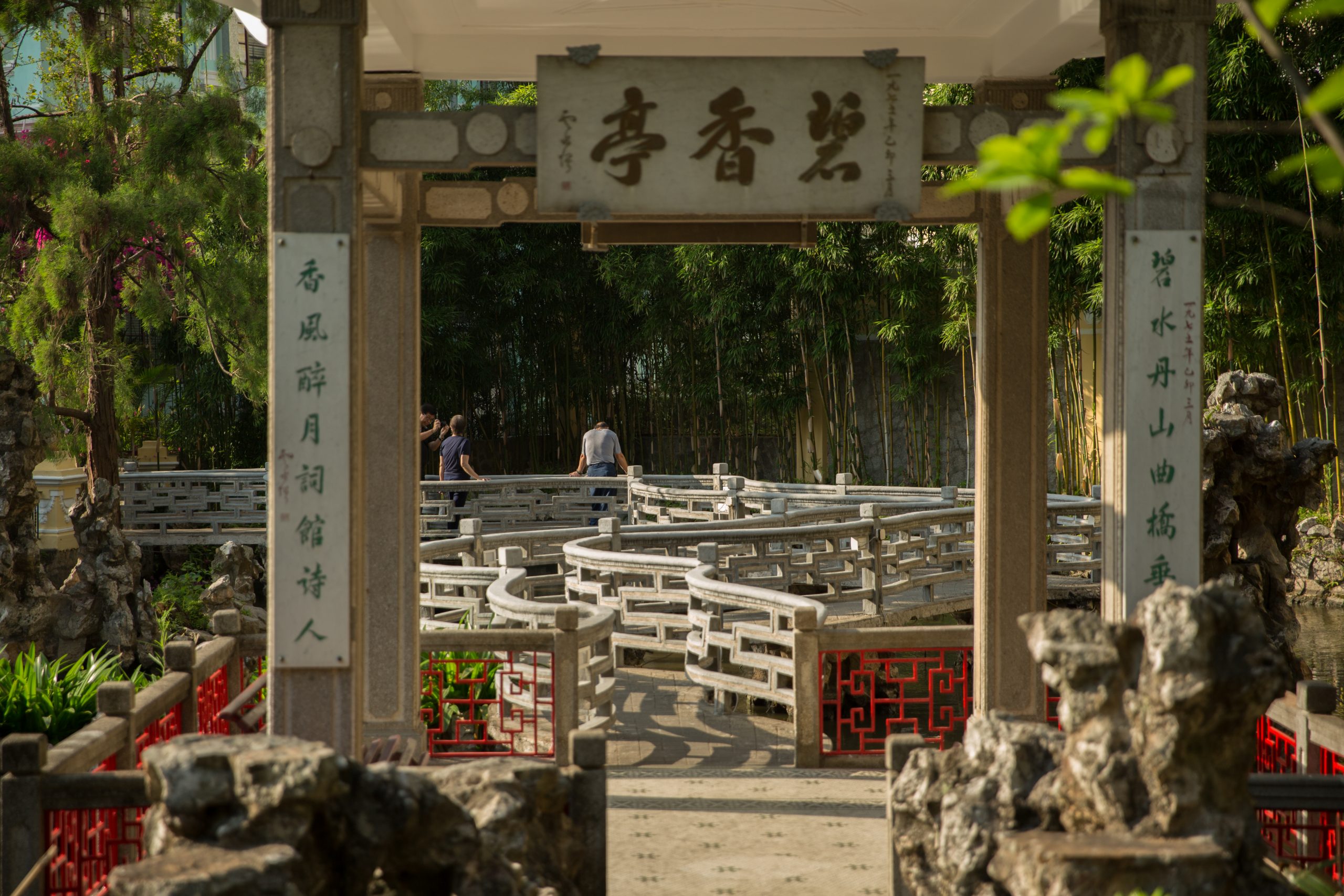 Every day around dawn a small crowd of elderly people gathers at the park's entrance. As the gates swing open, they walk in, line up in an orderly rank and begin their morning exercises.
This is Lou Lim Ieoc Garden, the only garden in Hong Kong and Macao built in the Suzhou style. It is an oasis of tranquillity pleasantly removed from the incessant drone of cars and scooters.
As the sun rises, so the park fills with people. Some perform solo Tai Qi and others follow exercises led by a teacher. Some drink tea from flasks they bring themselves and others swing the cages of their birds to give them the morning air. By nine o'clock, the air fills with the sound of Cantonese opera from two of the pavilions.
The architects envisioned a beautifully laid-out formal garden that would contain a single-storey residence for the Lou family
"The park is very popular with the nearby residents, especially those who are retired," said Leung Yung-sing, eating a bun on his way to work at a nearby shop. "They use it to exercise, to sing, to knit and to relax. How different it was when it was first built, for just a single family."
Leung was sitting in front of a one-storey house painted in yellow with classical columns that used to be the home of the Lou family who gave the park its name. It has wooden floors and, at the front, a long wooden corridor which looks over a large pond. That is where, a century ago, the Lou family used to sit during the long summer evenings and survey their expansive domain.
In those days, there were no high-rise buildings to distract from the view, nor the noise of motor vehicles – only the clip-clop of horses' hooves on the cobblestones and the stentorian breathing of the rickshaw boys as they pulled their clients.
It was another time, another world, but one that still resonates in Lou Lim Ieoc's verdant purlieus.
Humble beginnings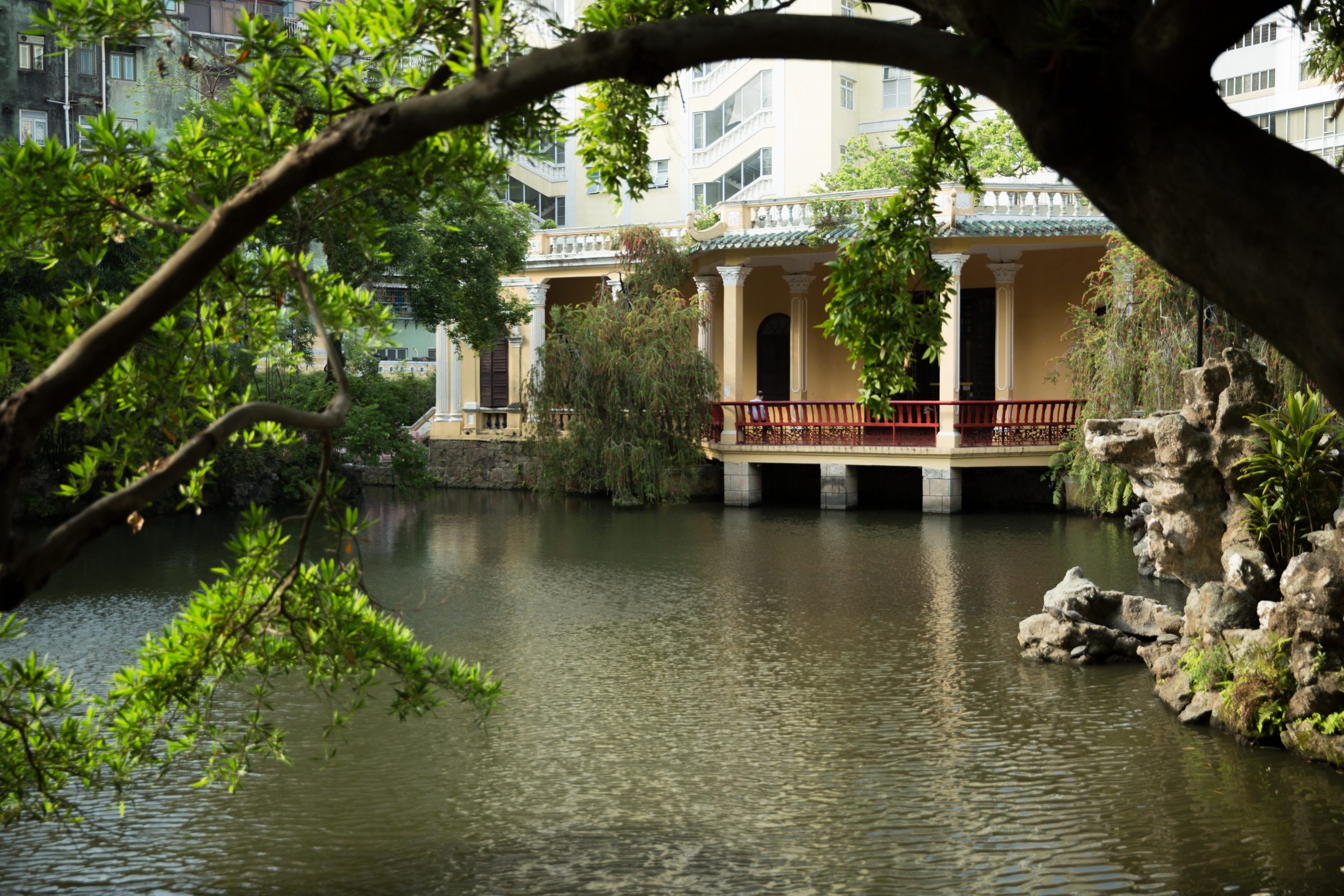 The story starts in October 1848 with the birth of Lou Wah-siu in modest circumstances in Xinhui, south of Guangzhou. As the ninth son he was known as Lou Kou, and after his family moved to Macao the following decade it didn't take him long to realise there was money to be made in the Portuguese entrepot.
He opened a private bank before he was 20, dabbled in imported pork, acquired a franchise to sell opium – which at the time was regarded as both medicinal cure-all and a fairly harmless recreation – and then hit the big time in 1882 with a gambling licence for fan tan and keno, which Chinese dubbed "white pigeon".
Within a few years Lou Kou had become Macao's first gambling king, rich enough to build the two-storey, blue-bricked, Sino-Portuguese-style mansion on Travessa da Sé in 1889 that has become one of Macao's architectural gems. 
No miser, he endowed hospitals and schools and donated generously to charities in Macao and the mainland. But there was still one more item on his wish list, something that he hoped would preserve his name and stand as a monument to his achievements for time everlasting.
Back in 1870, Lou Kou had bought a patch of land used to grow vegetables in what was then the village of Longtian on the fringe of Macao. Having amassed wealth beyond the dreams of avarice, in 1904 Lou Kou passed the responsibility for turning the field into a formal garden to his eldest son, Lou Lim-ieoc, who hired two scholars from Xiangshan – Liu Jiu-liu and Liu Xianlian – to design it. 
It came to be called Yu Yuan, although it was also referred to as Lou's Garden and Ninth Lou's Garden.
The architects envisioned a beautifully laid-out formal garden that would contain a single-storey residence for the Lou family, and another which is now the Iong Sam Tong pavilion. The design would draw its inspiration from the 200 private gardens built in Suzhou, Jiangsu province, between the 11th and 19th century, which have since been recognised as a UNESCO World Heritage Site.
"Chinese like stones and trees," said Wong Lam-ming, a schoolteacher who visits the park almost every day.
"This is their idea of beauty. The park used to be about four hectares, but its size has shrunk to about half what it used to be when the Lou family lived here."
Visitors can get a sense of the past from visiting the Iong Sam Tong pavilion. It was built as a spacious room for the Lou family to receive visitors and now houses a riveting collection of 290 personal items which once belonged to Lou I-ieoc, Lim-ieoc's brother.
Triumph and tragedy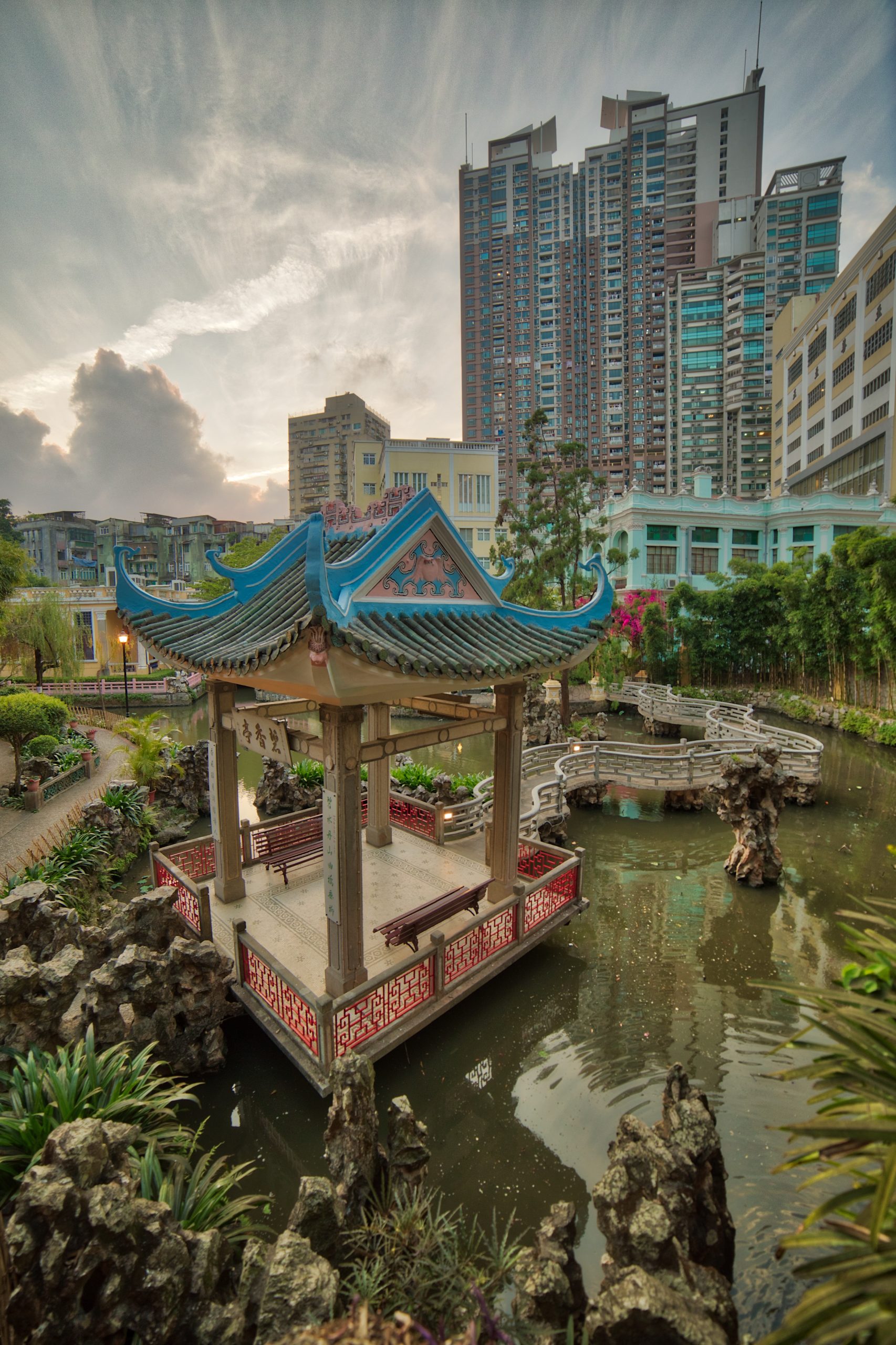 All this is a long way from the scene that greeted the eye in the 1900s, when the garden was not much more than a patch of mud and a heap of ideas. Construction was to take 21 years and absorb a substantial slice of the family fortune. The exact amount has been lost to history, but by way of comparison when the New Zealand city of Dunedin commissioned a similar project in 2008 the total bill was NZ$7 million (MOP 40 million).
Tragically, before Yu Yuan had begun to take shape, in November 1906 a gambling concession in Guangdong that Lou Kou thought he had firmly within his grasp was cancelled. 
Distraught, the 58-year-old gambling king threw a rope over a beam in his mansion and hanged himself.
It was a miserable end to what had been a glittering, triumphant tale of rags-to-riches.
Deeply shocked, the family pulled together to continue the construction of their father's dream garden, under the leadership of Lim-ieoc, who also took over the family business, running the gambling operations in Macao and branching into a theatre, silver, pharmaceuticals and pawn-broking. He also found the time to become a major shareholder in the Nanyang Tobacco Company and the Bao Xiang Bank.
By May 1912, the garden was looking respectable enough to host Dr Sun Yat-sen during his first visit to Macao after the Xinhai revolution the previous October, which Lim-ieoc and I-ieoc had vigorously supported.
More than 100 of Sun's Chinese and Portuguese friends, including the Governor Álvaro de Melo Machado and several religious leaders flocked to the reception, which is commemorated by a photograph as well as a primitive recording of Sun's speech of thanks.
The family continued to support Sun, later going so far as to donate HK$9,000 to help buy a Curtiss Model H, an American-made long-range flying boat, for the Chinese premier's personal use.
As head of the Lou family, Lim-ieoc continued to grow in stature in the community. In 1913, he was appointed as the first chairman of the Macao Chamber of Commerce. Like his father, he was a major philanthropist, donating substantial sums to Kiang Wu Hospital and setting up Confucian primary and secondary schools for impoverished children.
By 1925, after long years of sweat and toil, the garden was finally complete, and a photograph taken there captures Lim-ieoc at the pinnacle of his fame and success.
No miser, Lou Kou endowed hospitals and schools and donated generously to charities in Macao and the mainland
He is receiving awards in recognition of his contribution to society and seated amid the most important citizens of the colony, Portuguese and Chinese. Everyone is dressed up to the nines and Lim-ieoc looks inordinately proud and happy.
Ironically, the Lou family fortunes were headed for decline. Lim-ieoc died in June 1927, aged just 49. Flags in Macao were flown at half-mast. His body was taken to the White Cloud cemetery in Guangzhou, where more than 1,000 people attended the funeral. A wealthy Guangzhou businessman, a close friend of the family, paid for an elaborate tomb.
Ten years later, the family lost the gambling franchise. Unable to afford the maintenance costs, it was forced to sell part of its precious garden. For many years after, both family and garden were given a bumpy ride by the fates.
During the anti-Japanese war of 1937-1945, the Pui Ching school was evacuated from Guangzhou to Macao where it rented the pavilion as a library and held classes in the garden. After the war, Pui Ching's pupils returned to Guangzhou and part of the park was taken over by a primary and secondary school.
In 1952, Ho Yin, one of Macao's most prominent citizens, acquired the park and allowed two middle schools to use parts of it. He continued to enjoy it for the next 20 years but in 1972 either donated or sold it to the government for a risibly low price.
Two years later, the government opened the park to the public although at 1.78 hectares, it was less than half the size of the original Yu Yuan. It decided to name the park after Lou Lim-ieoc, because of his many contributions to Macao society.
The Iong Sam Tong pavilion had a rocky ride; it was first used as a classroom by the Leng Nam Primary School; later it was turned into the flora and fauna specimen room of Leal Senado, and offices and warehouses of government departments.
In 2010, the government carried out a major reconstruction of the pavilion to restore it to its original form. It now houses a permanent exhibition dedicated to the life of Lou I-ieoc, while in a corner of the park the Tea Culture Museum documents the importance of Macao's role as a port in helping spread Chinese tea culture around the world.
Nowadays, only the name and the objects in the pavilion in Lou Lim Ieoc Garden remind people of the wealth and fame of the Lou family. Their house has become a site for exhibitions. Teacher Wong summed up the feelings of most Chinese with the age-old saying: 'wealth does not survive three generations'.