7th edition of Macau Eco TrailHiker to be held in October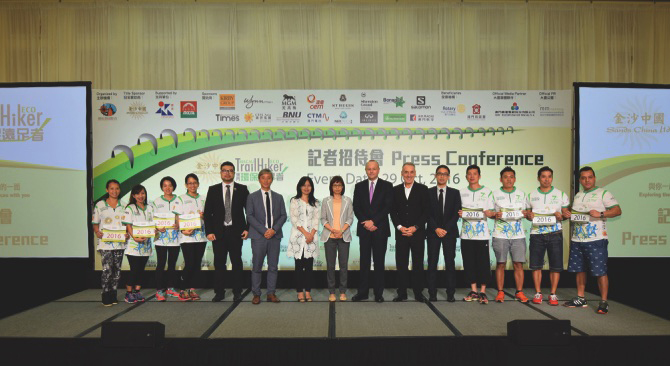 This year's edition of Macao Eco TrailHiker will be held on Saturday, October 29 with the theme, "Exploring the Greener Side of Macau with You."
Two separate races will be held: a 30km "Corporate Challenge" at 8 a.m. and a 10km "Family & Fun Event" at 10 a.m. The courses will follow the same route as in the previous year.
The event accepts participants from Macau and, as of this year, from Hong Kong, mainland China, Malaysia, Taiwan and other territories.
Over 320 teams had already registered before the official opening on Wednesday afternoon after the press conference, representing a significant rise over the 200 or so teams that had registered this time last year.
The registered teams represent almost 65 per cent of the 500-team quota for this year's event, which will be awarded to registrants on a first-come-first-served basis. Additionally, the organizers expect a total of 2,000 competitors for the event's 10km and 30km races.
"I think the reason for the event's growing popularity has something to do with the fact that it is different to what else is around at the moment. It's not just the race, there is also the jersey and the buffet event, so people really see it as more of a carnival," explained the director Robert Kirby. "It's a community event and many people often stay right until the end."
The "Wellness Boulevard," which promotes healthy living, will also return after its debut last year. It will include a variety of health foods, sports equipment, organic products, and showcase assorted health and fitness equipment.
Organizers are also introducing an electronic tracking system for teams in the 30km race, which will feed real-time information back to audiences at the finish line. The system also improves safety measures on the course.
Future plans to develop the event includes a possible 20km category and a "Junior TrailHiker Event" for students and schoolchildren, said Kirby.
"There are age limits for the current events and that may be putting off some younger people, but with a dedicated course in future we will expect the number of young participants to increase," he said in response to a journalist's question.
The TrailHiker event is a community activity that seeks to support charity organizations in the territory and internationally, as well as promote eco-friendly policies and lifestyles. Each year, organizers hand-pick beneficiaries by evaluating the needs of the local community.
Over the years, the event has raised a cumulative MOP1.8 million. Organizers expect the latest contribution to break the MOP2 million ceiling.
(Macau News / Macau Daily Times)