Typhoon Kompasu may strike city tonight
Typhoon Kompasu may strike city tonight

Link copied
Strong winds, thunderstorms and generally unsettled weather forecast over the next few days under the combined influence of typhoon and northeast monsoon.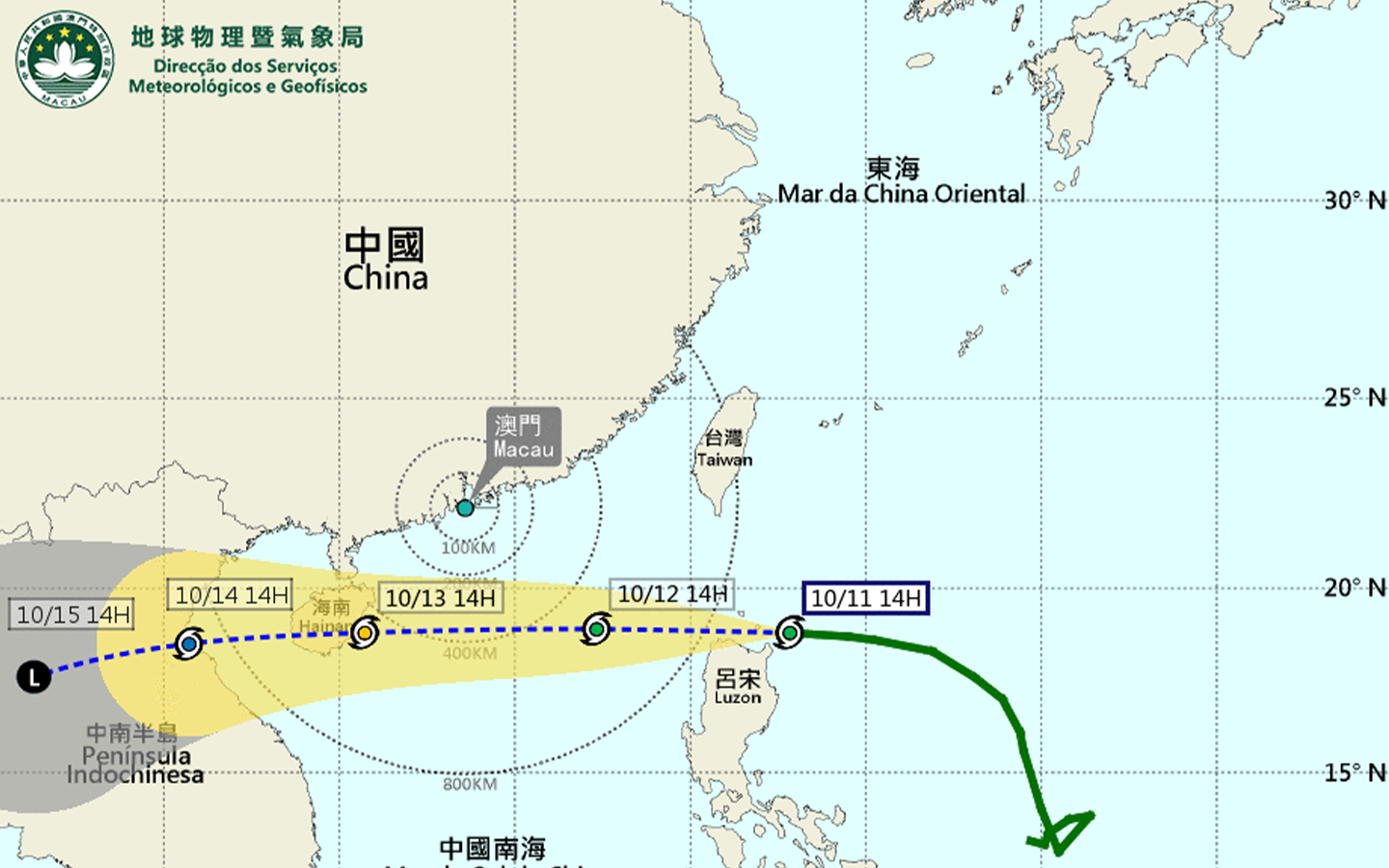 *Last updated: 3:30 pm on 11 October 2021
Typhoon Kompasu is speeding toward Macao and could strike the city as early as midnight tonight, the Meteorological and Geophysical Bureau (SMG) has warned.
Kompasu will be the second typhoon to disrupt Macao in just four days.
Staff at the bureau said that depending on the actual situation, the corresponding tropical cyclone signal will be issued directly then or it will replace the strong monsoon signal due to the northeast monsoon. It is forecast that Kompasu will intensify tomorrow and on Wednesday and move swiftly across the northern part of the South China Sea. 
It will come closest to Macao in the early morning of Wednesday, around 400 kilometres south of the city, and move in the general direction of Hainan. 
Under the joint influence of Kompasu and the northeast monsoon, the weather in Macao will tend to be unsettled in the next few days. Winds will intensify significantly, with a possibility of reaching wind force level 8, together with thunderstorms. In addition, under the joint effect of the astronomical high tide and strong winds, flooding around 50 centimetres is expected in the low-lying areas in the next two days. The public are advised to pay close attention to the latest weather information and take precautions against the strong wind and flooding as soon as possible.
Over the weekend Macao was struck by Typhoon Lionrock and a monsoon. The bureau hoisted the red rainstorm warning twice for a total of seven hours yesterday.
The bureau said that by 3 pm yesterday Fortaleza do Monte (Fortress Hill) had recorded 311 millimetres of rain, which was the highest daily precipitation rate recorded in October since 1952.
The SMG also said that some of the precipitation gauges in Cotai recorded a total of 280 millimetres yesterday. There was flooding in various areas around the city, and some of the rain gauges recorded flooding of up to 0.25 metres high.
The Municipal Affairs Bureau announced that due to the torrential rain over the weekend, landslides had affected a number of roads in Coloane, such as Estrada da Aldeia, Estrada de Hác Sá, Estrada de Cheoc Van, and Estrada da Ponta da Cabrita. The bureau has sent staff to the scene to clear up and protect the area, but while some of the roads have been reopened to traffic 14 hiking trails are closed until further notice.