Women arrested in Macau for dumping a baby in bin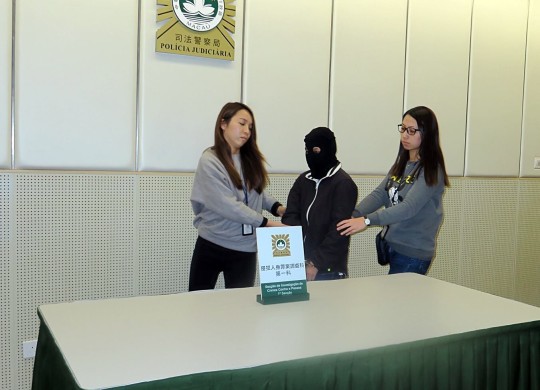 The police arrested a Filipina domestic helper on Thursday for dumping her newborn in a waste bin in a residential building in Taipa on Tuesday, a Judiciary Police (PJ) spokesperson said.
The spokesperson made the announcement during a special press briefing last night.
A baby girl was left inside a bin in a communal utility room on the 17th floor of Lei Yip Building in Flower City in Taipa on Tuesday. She was discovered by a cleaner at around 10 a.m., and was taken to a hospital after the police arrived, where she later recovered.
According to the spokesperson, the suspect is a 23-year-old woman surnamed Literato, who works as a domestic helper in the Philippines. The suspect accompanied her employer, the employer's mother and the employer's two children to Macau on February 4. They all stayed at the flat in Taipa, which was rented by her employer's friend.
The spokesperson said Literato had been among the prime suspects of the case, as she lived on the same floor where the baby was found, but she lied and told police that she hadn't given birth recently. As she is petite it made it hard to tell that she had just given birth, the spokesperson added.
However, after looking through the evidence, and conducting a DNA test, the spokesperson said the police confirmed that she was the baby's mother and arrested her.
The suspect later admitted during questioning that she gave birth to the baby girl in the flat's bathroom at around 1 a.m. on Tuesday, but as the baby didn't cry, she thought it had died at birth, so she wrapped the girl in a towel and threw her away, the spokesperson said.
The spokesperson, however, said that as the unmarried suspect had had a child before, he doubted her story about being inexperienced in childbirth. Her first-born is a 5-year old boy who lives in the Philippines.
The spokesperson added that the employer was oblivious to her maid's pregnancy, and there was no evidence indicating that she was involved in the crime.
When asked by reporters whether the suspect knew that her child was alive and wanted her back, the spokesperson said she knew but made no mention about wanting her baby back during questioning.
The spokesperson said the suspect has been transferred to the Public Prosecution Office (MP) and may face a child abandonment charge, which if proven could put the suspect behind bars for up to five years.
According to the spokesperson, the baby's condition has improved and she now weighs five pounds, and will initially be put in the care of the Social Welfare Bureau (IAS).
(macaunews/macaupost)