Uber 'closely related' to illegal taxis says Macau's transport chief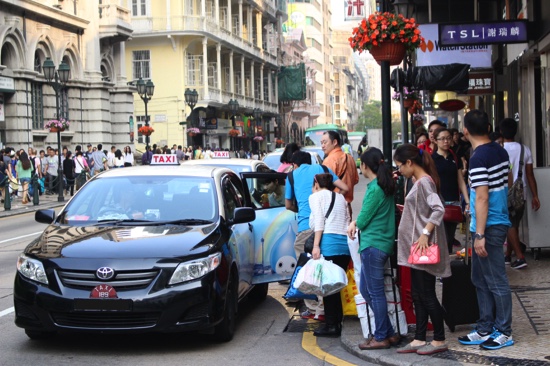 Transport Bureau (DSAT) Director Lam Hin San said that Uber's services are "closely related" to illegal taxi operations, adding it was illegal for Uber drivers "to carry passengers in their cars".
Speaking to reporters on the sidelines of a trail-running competition in Coloane, the city's transport chief said that in Macau all light vehicles must be registered as taxis before their drivers can take paying customers.
Uber announced the launch of its controversial service in Macau on Thursday. Hours after Uber's announcement, the Public Security Police (PSP) and the Transport Bureau jointly said in a joint statement that drivers who transport paying passengers in a car not licensed for that purpose face a 30,000 patacas fine. Speaking during a joint press conference by the two bureaus at the PSP headquarters on Friday, PSP spokesman Ma Chio Hong said that the police were still collecting information about Uber's mode of operations.
Asked by the media if it would be difficult for the government to prove whether a customer paid an Uber driver or not, given that the payment may involve transnational transactions, Lam said he was unable to elaborate because the local Uber case was still being investigated. "What I want to emphasize is that there are punishments for any violation of existing laws," Lam said. He also said his bureau had not contacted Uber about its local business launch.
Lam acknowledged that mobile phone applications such as Uber, which enable customers to submit trip requests to drivers, were "new in the market", adding that the government would try to update the relevant laws if needed. He also said the government had been "constantly increasing" the number of taxis to meet the public's demand.
Asked by reporters whether people in Macau are allowed use mobile phone applications to call taxis, Lam said taxi drivers do not violate the law as long as taxi fares are calculated in accordance with the law.
Uber Technologies Inc. is an American company headquartered in San Francisco. However, according to the Uber mobile phone application, Uber customers in Macau, along with their counterparts in many other regions and countries, are required to enter into an agreement with an Amsterdam-based company named Uber B.V. before getting their Uber accounts. B.V. is the Dutch abbreviation of private limited company.
(macaunews/ macaupost)