Transport chief says traffic problem has reached dead end, vows to improve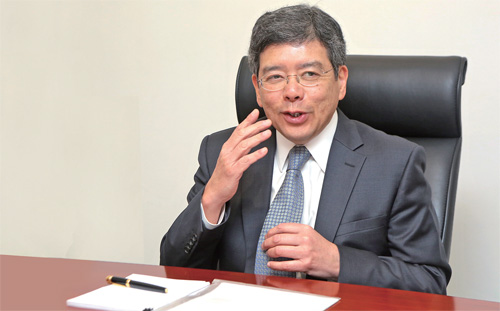 This year Macau will have two major environmental protection plans – the treatment of waste materials and that of waste cars, the Secretary for Transport and Public Works said in a recent interview with Exmoo News.
"Last year a mountain of waste in Shenzhen collapsed, causing a tragedy. In Macau, we only have one dump site, which is getting higher and higher. I hope that it does not collapse," said Raimundo Arrais do Rosario.
He said that, in 2017, the government hoped to transfer a portion of the good-quality inert waste, already divided into different categories, to dumps in Guangdong province, together with some of the waste cars.
Rosario, who represented Macau in several important posts for 15 years overseas, returned to Macau in December 2014. He is known in the media as the "100 % secretary" and for his "poker-face" look.
He took on one of the most difficult dossiers in the government. Macau has just some 30 square kilometres of space and 400 km of roads and the number of cars and tourists is increasing every year, he said. Each month more than 600 vehicles and motorcycles come on the roads, with no restrictions on purchasing, he said.
"I feel the transport problem has reached a dead end," he said. "Even a primary school graduate knows this. There is no way to resolve it." He added that he will do his best within his five-year term.
This year a new car inspection centre in Cotai will open, with higher demands on the quality of vehicles. Those that do not meet standards will be taken off the road, he said.
Rosario runs a department with 3,400 staff but with a workload more than they can cope with, he said. Last year his office received 10,000 letters from the public complaining about delays in processing applications for private development projects and other issues.
He said that the government administrative processes were slow. "This problem is caused by the fact that different departments have their own area of authority. I ask another department for their opinion, It is normally provided within 30 days but some take longer. Each one has its own reasons, such as a heavy workload. To resolve this problem, we all must change the culture and work faster," he said.
He said that the four big problems of his work were "not enough land, not enough time, not enough people and not enough efficiency."
Before his return, he was director of the Macau Economic and Trade Office in Lisbon, the Macau Economic and Trade Office to the European Union in Brussels and the Macau Economic and Trade Office to the World Trade Organisation.
After 15 years living away from the city, he found many changes – more overcrowding and a higher standard of living. "Everyone is clutching a mobile phone, and all the prettiest model."
During the weekend, he often takes the bus to have a first-hand look of the traffic problems. He likes to take the Number 34 bus from Cotai to the north of the Macau peninsula. Many local people recognise him but – so far – all have been well-mannered. "No-one criticises me," he said.
(macaunews/exmoo news)