Police arrest 2 local men for ripping off HK banks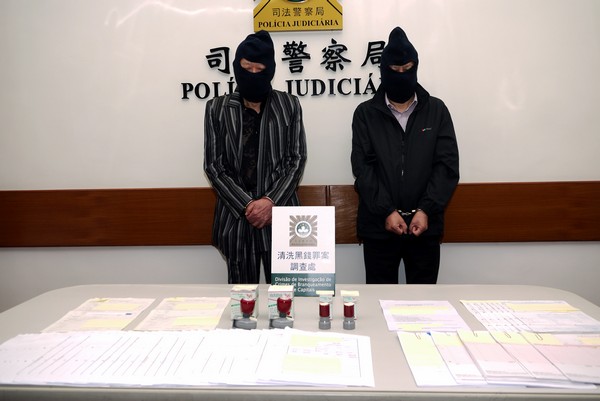 The Judiciary Police (PJ) announced Wednesday the arrest of two local businessmen believed to be members of a loan-fraud gang suspected of ripping off up to 10 banks in Hong Kong between 2006 and early this year, involving at least HK$70 million.
According to The Macau Post Daily, a PJ spokesperson  said that the duo – surnamed Wong, aged 68, and Lau, aged 82, were arrested on Tuesday. Each had set up a trading company, supposedly to trade mainly in wine, which the police suspect they used to obtain the fraudulent loans from the Hong Kong banks.
According to the spokesperson, the Judiciary Police started investigating the case in 2008 based on an anonymous tip-off that there were suspicious money-transfers involving several Hong Kong banks and four local firms– two of which Wong and Lau owned – and two Hong Kong firms.
Between seven and 10 Hong Kong banks were cheated out of HK$70 million and there were "several" people from Hong Kong and the mainland suspected of involvement in the racket who are still at large, the spokesperson said, adding that the Judiciary Police would go on investigating.
The spokesperson pointed out that the Hong Kong banks had transferred huge amounts of money into the accounts of the four local firms with local banks in the past few years which the two Hong Kong companies had asked the Hong Kong banks to pay to the four local businesses for non-existent wine orders.
The defrauded banks lent money to the two Hong Kong firms after receiving fake pro-forma invoices from four non-existent local firms to prove that the two Hong Kong companies had ordered a quantity of products.
The Hong Kong banks transferred money to the accounts of the two local firms – owned by Wong and Lau separately – at least 300 times, adding that at least HK$200 million was involved, resulting in a loss of at least 70 million in the process.
According to the spokesperson, to obtain larger loans the two Hong Kong firms would apply to one bank, for the main loan and to another for the deposit to give to the bank they had obtained the loan from. However, when the deadline to repay the loan was approaching the banks were unable to contact the debtors and so the deposit was retained by the bank that had lent the money.
The spokesperson said that the two suspects had been paid one percent of each money-transfer once it had been completed.
The spokesperson added that the two suspects would be transferred to the Public Prosecution Service (MP) for further investigation and possible arraignment a range of charges, such as fraud, issuing fake documents and money-laundering.(macaunews)