New Macau municipal body set for 2017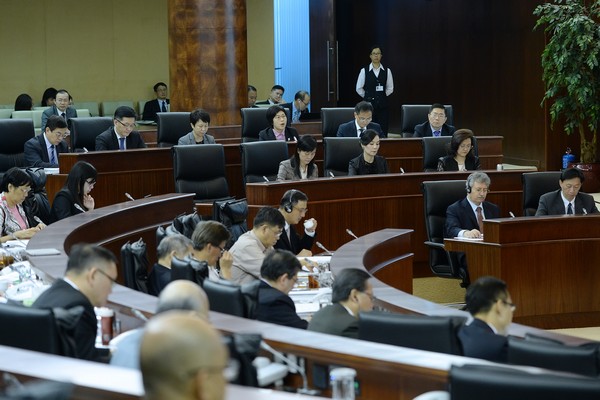 Addressing Q&A session in the legislature's hemicycle, Secretary for Administration and Justice Sonia Chan Hoi Fan said she expected a non-political municipal organisation to be set up in 2017, pledging to carry out a public consultation on the matter next year.
Article 95 of the Macau Basic Law states that "municipal organisations which are not organs of political power may be established in the Macau Special Administrative Region. Entrusted by the government of the region, they shall provide services in such fields as culture, recreation and environmental sanitation, and shall be consulted by the government of the region on the above mentioned affairs."
Article 96 states that "the functions, powers and structure of the municipal organisations shall be prescribed by law."
Chan and several other senior officials of her portfolio attended the session. On the first day of the two-day Q&A session about her portfolio's policy guidelines for next year, 18 lawmakers raised various issues about the public administration, such as the longstanding problem of overlapping functions in the government structure and the slow-moving legal reform process.
The policy secretary said the government had not decided yet on the fate of the Civic and Municipal Affairs Bureau (IACM) once the new municipal body has been established, adding that the bureau's construction-related duties would be reallocated to other public entities.
The legislature is scheduled to vote article-by-article on Tuesday on a bill amending the IACM statues, which would transfer some of its functions to the Cultural Affairs Bureau (IC) and Sports Development Board (IDM) on January 1st.
Chan also said the government had been working on amending the Chief Executive Election Law and the Legislative Assembly Election Law to enhance the competitiveness of indirect elections and electoral impartiality, pledging to launch a public consultation on the issue early next year. Chan said she expected the two amendment bills, after being passed by the legislature, to be enacted before the next legislative election in 2017. Chan, however, was quick to add that the government did not intend to propose any amendment to the Macau Basic Law's Annex I and Annex 2, which regulate the selection method of the chief executive and the formation of the legislature.
(macaunews/macaupost)