New locations for four polling stations at autumn elections
New locations for four polling stations at autumn elections

Link copied
As preparations for Legislative Assembly elections take shape, commissioner urges voters to update their personal details.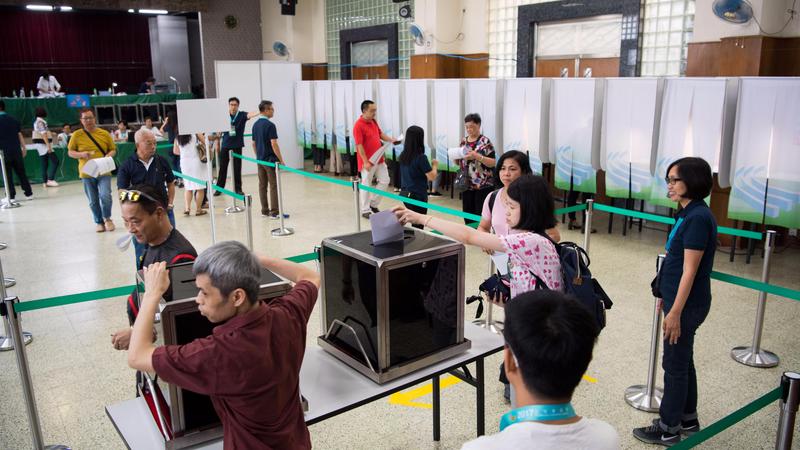 Residents will be able to cast their votes at 36 polling stations at this year's elections, the same number as in 2017, although four will be in new locations.
Legislative Assembly Electoral Affairs Commission President Tong Hio Fong cited the example of the Macau Forum complex in Zape which needed to be replaced as it is being used as a nucleic acid testing station and vaccination centre.
The Macau Forum complex polling station will be replaced by Santa Rosa de Lima English Secondary School – which is located in Avenida do Dr. Rodrigo Rodrigues in Zape.
The Social Welfare Bureau's (IAS) service facility set up at the Seac Pai Van public housing estate in Coloane was judged too small and will be replaced by the Seac Pai Van Public School.
The Taipa Fong Chong School – which is located near the Nova Taipa Garden residential estate – is under renovation and will be replaced by a polling station at the primary school section of Pui Tou School – which is located at the Hung Fat Garden residential estate.
Tong also said that his commission has decided to replace Santa Teresa School in Ilha Verde with São José Diocesan No. 5 School in Toi San, with the aim of making polling stations more evenly distributed for voters in the Ilha Verde and Toi San neighbourhoods.
About 320,000 permanent residents will be eligible to vote in this year's direct election, an increase from the about 307,000 voters in the 2017 election, The Macau Post Daily reported.
Tong also noted that Coloane has a population of 32,000 but only 6,200 voters are registered as having their home address there, which would indicate  that many voters who have moved to new homes there have still not changed their address in their electoral registration.
The commission designates voters the polling station that is nearest to their registered home address. Tong urged all those who have not updated their home address in their electoral registration after moving to update it by 31 May , in order to enable his commission to designate polling stations that are nearest to the address where they are now living.
Tong also suggested that voters can check whether their address registered in their electoral registration is the one where they are currently living, despite not having moved to a new home, with the aim of ensuring that they will receive their voter notification letter before the election.
The direct and indirect Legislative Assembly elections will be held on Sunday, 12 September. 
Voters can change their address via the website of the electoral registration (www.re.gov.mo).
Meanwhile, Tong revealed that two of the four groups, which had submitted registered voters' signatures endorsing their respective candidacy, have withdrawn from taking part in the election. These two groups are the Macau Power of Gaming Association, and the Macau Common Home Alliance.