New customs chief of Macau "ready to tackle any challenge"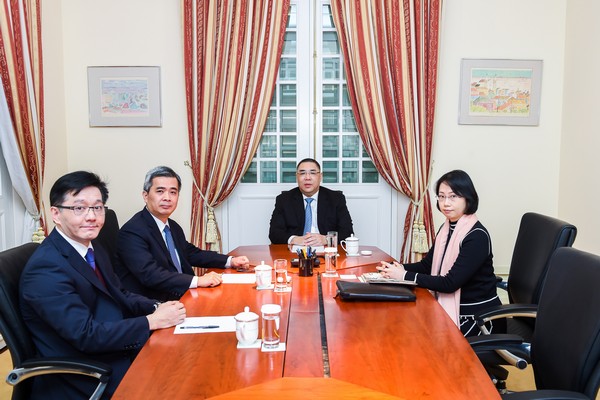 Newly sworn-in Macau Customs Service Director-General Alex Vong Iao Lek said on Monday that he and his team would be ready to tackle and overcome any challenge which may come up.
Vong's swearing-in ceremony took place at Government Headquarters yesterday, with Chief Executive Fernando Chui Sai On presiding over the function. Vong made the remarks speaking to reporters on the sidelines of the ceremony.
When asked by reporters about his inexperience in the area of public security, Vong, who previously headed the Civic and Municipal Affairs Bureau (IACM) and Sports Bureau (formerly known as Macau Sports Development Board), said there would always be difficulties and challenges, but he was confident that the Customs Service will be able to overcome any obstacles standing in the way.
Meanwhile, before the swearing-in ceremony, Chui was asked by reporters about Vong's appointment after attending an International Women's Day reception hosted by the Women's General Association of Macau at The Plaza Restaurant in Zape. He said that Macau's principal government positions are not legally required to be occupied by people with experience in particular areas.
"Over the past 16 years, we have had principal officials in different areas who had never worked in their areas [prior to their appointments]," Chui said, adding that it was of great importance to choose principal officials after comprehensively evaluating their academic qualifications, experience, social recognition and management skills, as well as the ability to set and implement policies.
A dozen principal officials of the Macau Special Administrative Region (MSAR) are appointed by the central government in Beijing after nomination by the local chief executive.
(Macaunews/macaupost)