Macau's Secretary for Security talks of pre-1999, mafia days and high-tech crimes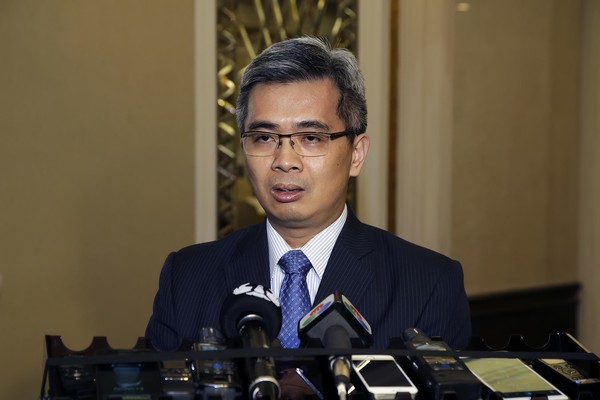 The Secretary for Security warned of the increasing sophistication of high-tech and computer crime and the difficulty of laws to keep pace with it.
At the end of 2014, Wong Sio Chak took responsibility for law and order as security chief in the SAR, nearly 16 years after joining the police force.
"The criminals want a 'big dinner'," he said in a recent interview with Exmoo News. "They have put away their knives and guns for violent crime. Hackers have entered the accounts departments of the casinos and the personal computers of people to steal individual information and use false credit cards.
"There are the huge under-the-table gambling syndicates controlled by remote phones. There are others who help mainland customers to withdraw money at POS (point-of-sale) machines."
He and his colleagues are fighting many kinds of 'knowledge-based' crime – such as bank card fraud, telephone scams and withdrawing money from ATMs with false identities. "There will be more and more kinds of computer crime and they are harder and harder to prevent," he said.
He said that, in the face of all these different forms of IT crime, the police had set up an 'Internet Security Centre' to guarantee the safety of information of Macau citizens and companies. "We also have two weapons – a computer certification unit and IT investigation team. In addition, the economic and finance division has a finance intelligence office and is planning a special team to attack money-laundering and all kinds of IT crime.
"It will co-ordinate with government departments, companies, the police, customs, banks, real estate, finance and major gambling firms. Its scope will be very wide. Nothing of this scale existed before 1999," he said.
Wong said that the legal system had difficulty keeping pace with the increasing sophistication of these new criminals.
"Before the handover, there were no regulations on computer crime. Drafting of the law only began in 2001 and it was passed in 2009. But computer technology advances too fast. Even after revisions of the laws, it is still lagging behind the new criminal situation."
"Most serious is the case of those who come from outside to commit crimes in Macau. Whether or not to use to 'summary litigation procedure' is not up to the police to decide. It is the prosecutor or judge who decides. There are conditions – a sentence of less than three years, the person over 18 and with adequate evidence and the decision must be made within 48 hours. If not, the person could just be expelled from the SAR. But the complexity of some cases is such that the prosecutor basically cannot collect sufficient evidence in 48 hours. If the evidence is not enough, we cannot use this procedure," he said.
Wong was invited to join the police in June 1998 by then police chief Antonio Marques Baptista. One month earlier, Baptista had survived a bomb attack, when his dog sniffed explosives in a car he was about to enter. Wong took up his post in November 1998.
"That was the most difficult period," Wong said. "The situation in the force was very complicated. The social situation was also complicated and difficult – most important was that the citizens did not have confidence in the police!" In 1999, there were 65 kidnappings and 47 homicides, of which 20 were related to Triads.
He has two daughters, one studying law and the other at primary school. Each day he takes the younger one to school. "I do not have high demands of them."
(macaunews/exmoo)