Macao wants to strengthen cooperation with Fujian and Jiangxi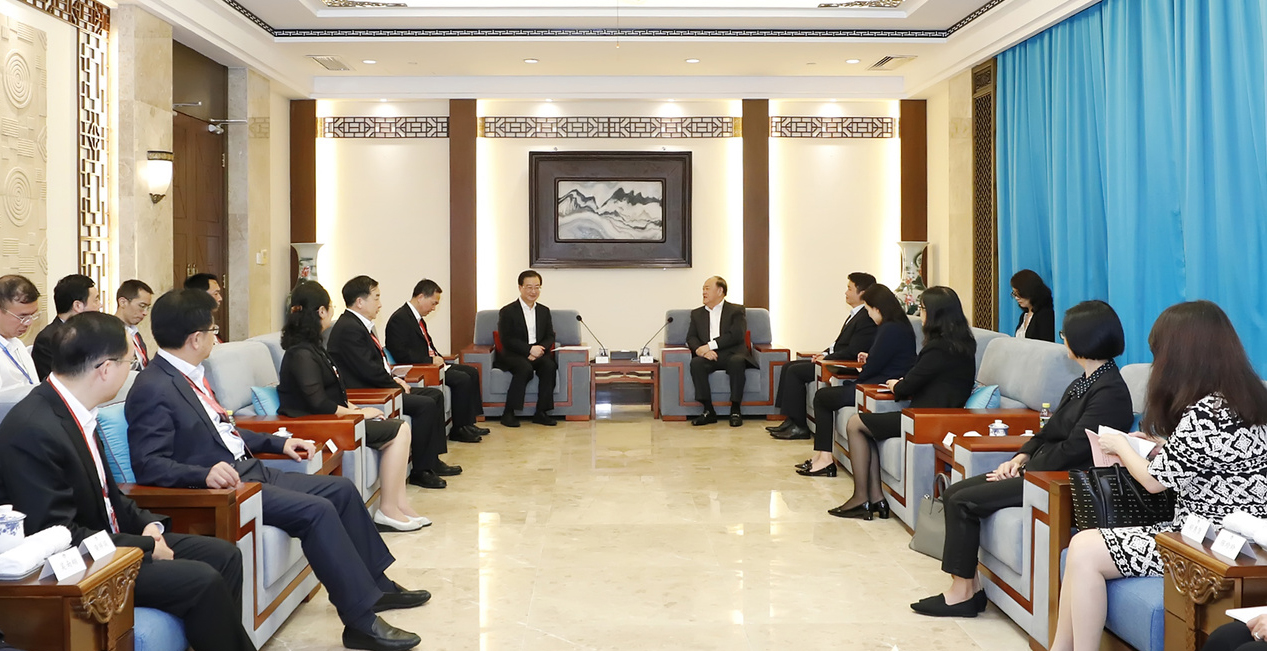 Chief Executive Ho Iat Seng during a meeting with Fujian Governor Wang Ning suggested three approaches for future cooperation between Macao and Fujian: 1) financial services in relation to renminbi (yuan) clearing and foreign currency bonds; 2) commercialisation of traditional Chinese medicine (TCM); and 3) training of a greater number of professionals to support the TCM development, and promotion of science and technology projects in that field.
The meeting took place in Sanya city on the sidelines of Fridays's 2020 Pan-Pearl River Delta Regional Cooperation Chief Executive Joint Conference.
During the meeting, both politicians exchanged views on the commercialisation of TCM products, the Belt and Road Initiative (BRI) and closer cooperation in economic and trade matters, as well as cultural affairs and tourism.
Macao and Fujian are both playing a key part in the nation's Belt and Road Initiative, Ho noted, who said he was looking forward to working closer with Fujian in order to promote trade and investment activities in countries and regions covered in the initiative.
Wang praised Macao's activities in containing the novel coronavirus from spreading locally, saying the stability of Macao's political system, economy and people's livelihoods illustrated the Macao government's ability in governance.
Fujian and Macao should bolster exchanges in the areas of digital economy, maritime economy, financial services, technology, cultural affairs and education, Wang proposed.
In a separate meeting on Thursday, Ho met with Jiangxi Governor Yi Lianhong to explore further cooperation opportunities in TCM, tourism, science and technology, and education.
Speaking at the meeting, Ho said the adverse impact from the COVID-19 pandemic had further reinforced the Macao government's determination to press ahead with policies promoting the city's economic diversification.
He envisaged vast opportunities for cooperation between Macao and Jiangxi, as both have their specific advantages, such as Macao has a strong capital base while Jiangxi is rich in natural resources, Ho underlined.
Ho gave a briefing on the Macao government's strategy for the development of the TCM sector, based on the favorable conditions under the "One Country, Two Systems" principle; and the Macao government's work on the promotion of patriotism among young people.
Yi noted that Macao is a core city of the Guangdong-Hong Kong-Macao Greater Bay Area (GBA), and a platform for the mainland to expand its overseas connections, in particular ties with Portuguese-speaking countries.
Jiangxi and Macao have developed close ties in a variety of issues and frequent people-to-people exchanges, noted Yi, who briefed Ho on Jiangxi's ongoing effort to promote science and technology innovation and proposed that the two sides work together in that regard.
Ho returned to Macao Friday after the Pan-Pearl River Delta Regional Cooperation Chief Executive Joint Conference.
(The Macau Post Daily/Macau News)
PHOTO © Government Information Bureau (GCS)