Macau starts light rail construction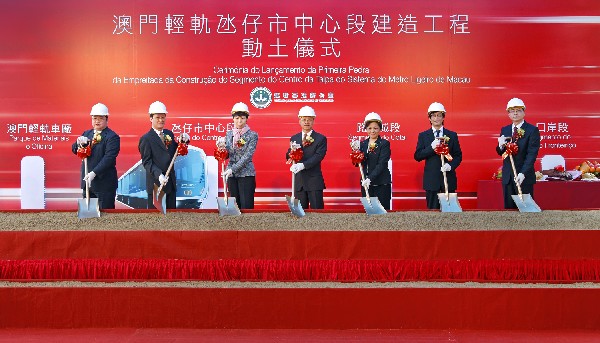 Macau, China, 22 Feb – Macau's long-delayed light trail project got finally off the ground Tuesday and Secretary for Transport and Public Works Lau Si I asked for residents' understanding for any traffic snarl-ups and inconvenience caused.
Construction for the Taipa-section of the Light Rapid Transit (LRT) system started, after 10 years of preparatory work,The Macau Post Daily reports today.
Lau spoke to reporters after the project's groundbreaking ceremony held at the construction site in front of the Macau Jockey Club, after which construction workers immediately began groundwork at the Sai Van Bridge tunnel near the Ocean Gardens residential complex.
The 1.94-kilometre Taipa section, which consists of four stations – Ocean Gardens , Macau Jockey Club, Macau Stadium and Pai Kok, is budgeted to cost 489 million patacas and is slated take at least three years to complete.
Lau admitted that construction of the LRT system might cause inconvenience for people in the area, but asked for their understanding as the light rail system would reduce the city's traffic woes in the long-run.
"Traffic congestion will worsen as the number of vehicles in Macau continues to grow. The LRT can smooth out traffic problems caused by the busy road network," Lau said.
The first phase of the public works project which includes 21 stations connecting Macau , Taipa and Cotai over a 20-kilometre track, was given a revised budget of 11 billion patacas last year. Originally, the mammoth project was budgeted at 4.2 billion patacas in 2007.
Lau said that the light rail was a special project for Macau which would promote co-operation between Guangdong and Macau and boost regional integration as Macau's light rail system will in the future be linked with the one in Guangdong. (Macaunews/Politics)