Macau and Shenzhen should jointly generate regional activities, said Chief Executive Edmund Ho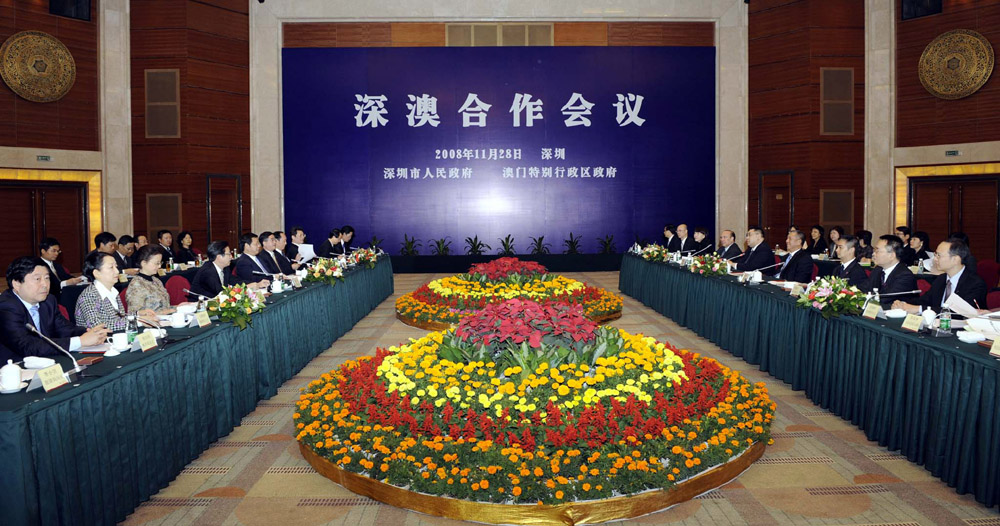 Macau, China, 28 Nov – Macau Chief Executive Edmund Ho Hau Wah said today in Shenzhen that it should jointly generate regional conventions and exhibitions with the Chinese city, as part of strategies to diversify the economy of Macau, according to a statement from the Macau Government Information Bureau.
Edmund Ho, who has been on an official two-day visit to Shenzhen, was Friday at the Shenzhen-Macau Cooperation Meeting,
in which the leaders of the two regions signed two protocols and a memorandum of cooperation for the culture, education and tourism sectors.
Macau and Shenzhen have been signing cooperation agreements since 2006, mainly in the following sectors: economy and commerce, culture, tourism, finances, logistics, inspection and quarantine.
Xu Zhongheng, the president of the municipality of Shenzhen, spoke at the signing of the memorandum of cooperation, together with the Macau secretary for Social Affairs and Culture, Fernando Chui Sai On, and said "it is necessary to strengthen cooperation with the aim of promoting a more dynamic participation from the two regions in an international context."
Chui Sai On said that these agreements are a testament to the development of relations between Shenzhen and Macau, as part of cooperation with the Chinese province of Guangdong.
"In view of the current international financial crisis, strengthening regional cooperation is very import important for the economy, for integration and improvement of the quality of life, and for sustainable development", said Chui Sai On.
Meanwhile, Radio Macau reported that Xu Zhongheng showed interest in having Macau become a business platform for Shenzhen and Portuguese-speaking nations, which would respond to proposals made by the Chief Executive of Macau.
Shenzhen is a city of sub-provincial administrative status in southern China's Guangdong province, situated immediately north of Hong Kong. Owing to China's economic liberalization from the policies of reformist leader Deng Xiaoping, the area became China's first – and ultimately most successful – Special Economic Zone.
Shenzhen's novel and modern cityscape is the result of the vibrant economy made possible by rapid foreign investment since the late 1970s, when it was a small fishing village. Since then, foreign nationals have invested more than US$30 billion for building factories and forming joint ventures. It is now reputedly one of the fastest growing cities in the world.
Being southern China's major financial centre, Shenzhen is home to the Shenzhen Stock Exchange as well as the headquarters of numerous high-tech companies. Shenzhen is also the second busiest port in mainland China, ranking only after Shanghai.
Shenzhen is located in the Pearl River Delta. The municipality covers an area of 2,020 square kilometers (780 square miles), including urban and rural areas, with a total population of 8,615,500, at the end of 2007.
(MacauNews)