Macau representative office in Taiwan opens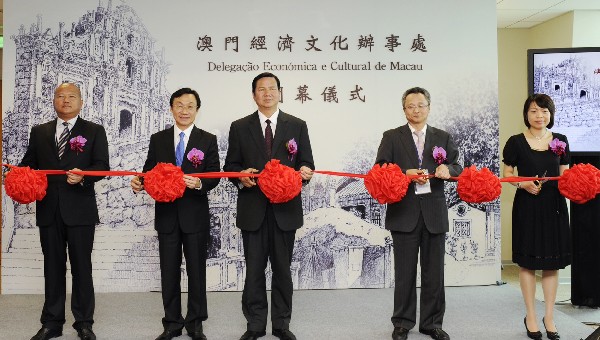 The Macau government formally opened a representative office in Taipei on Sunday, giving the city a greater presence that it expects will deepen trade, tourism, cultural and education ties with Taiwan, according to the island's Central News Agency (CNA).
Alexis Tam Chon Weng, chief-of-cabinet of the Office of Chief Executive Fernando Chui Sai On, said at the inauguration ceremony that the opening of the Macau Economic and Cultural Office was more than just "a joyous occasion for people from Macau and Taiwan."
"It is also an important milestone in the development of closer, mutually beneficial and peaceful relations between the two sides," Tam was quoted as saying by the wire service.
He said the representative office will promote economic, cultural, travel, education, sports and health co-operation between Macau and Taiwan and provide services for Macau citizens working, studying, living or travelling in Taiwan.
The office will also help Macau citizens in Taiwan cope with emergencies and will co-operate with Taiwanese authorities in cracking down on crime, Tam said.
According to The Macau Post Daily today the Macau and Hong Kong special administrative regions have been preparing for the opening of offices in Taiwan since last December because of their growing exchanges with the island.
The Macau office is headed by Nadia Leong Kit Chi. The Hong Kong Economic, Trade and Cultural Office will formally open tomorrow. Both offices are understood to have quasi-official status. Based on reciprocity, the Taiwan authorities have their own quasi-official representative offices in Macau and Hong Kong. Relations between Taiwan and the two special administrative regions are overseen by the central government in Beijing.
Secretary for Social Affairs and Culture Cheong U, Executive Council member Chan Meng Kam and representatives from Macau's education, culture and tourism sectors were among those attending the opening ceremony.
Yen Chung-kuang, director of the Hong Kong and Macau Affairs Department under Taiwan's Mainland Affairs Council (MAC), said there were currently more than 4,300 students from Macau in Taiwan, the most of any overseas contingent, adding that around 60,000 Macau residents visited Taiwan last year.
He said the figures reflected the close relationship between the two sides, and noted that the Taiwan authorities hope to strengthen co-operation with Macau on air travel, crime-fighting and cultural and creative industries in the future.
Officials said the Macau office, which is located in the Taipei 101 building, will have a staff of around 10 to 15 people.(macaunews)