Macau Panda Hoi Hoi returns home "for most important mission"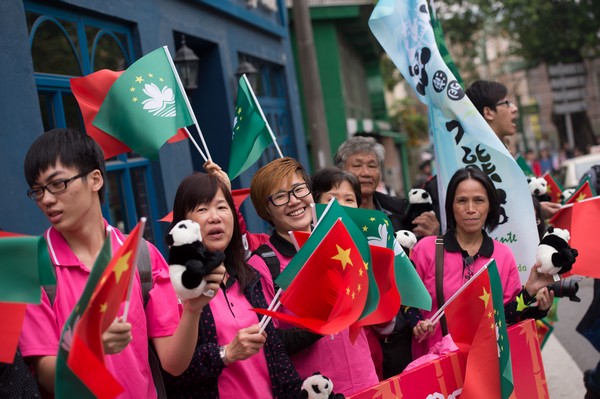 Previously named Hoi Hoi, the seven-year-old male giant panda known as Shuxiang in Putonghua, which had lived in Macau since 2010, returned yesterday to his birthplace in Sichuan to join a breeding programme.
A Civic and Municipal Affairs Bureau (IACM) lorry took Shuxiang to the local airport from Coloane's Oscar Farm, where he had been in quarantine in the run-up to his flight back home. Dozens of residents waved goodbye to Shuxiang with national and local flags in the island's town centre when the lorry passed through.
Speaking to reporters at the farm before Shuxiang's departure, Leong Kun Fong, a member of the IACM Administration Committee, said the panda was in good physical condition with a good appetite.
Leong said Shuxiang had become a "close friend" of many IACM staff members and left them with many fond memories. Describing him as a panda of "very good quality", Leong said he believed Shuxiang would complete his "most important mission" of producing offspring in the near future. "We'll ask them [the Chengdu Research Base of Giant Panda Breeding] to inform Macau residents when there is any good news. I think everyone will be very happy," Leong said.
Also at the farm, Li Mingxi, a nutritionist from the Chengdu Research Base of Giant Panda Breeding, told the press that Macau had done a good job in taking care of the "smart" panda, adding that Shuxiang was valuable to Sichuan's panda population thanks to his "excellent genes".
Secretary for Administration and Justice Sonia Chan Hoi Fan personally oversaw Shuxiang's transfer from the farm in Coloane to the local airport. Chan told reporters she was wishing Shuxiang success in his breeding programme participation in Chengdu. Shuxiang's move back home had been announced by the local government earlier this year.
In 2009, the central government gave two pandas, initially called Shuxiang and Qimiao, to Macau as gifts to celebrate the 10th anniversary of the establishment of the Macau Special Administrative Region (MSAR). The pair of pandas were then renamed Hoi Hoi and Sam Sam in Macau.
"Hoi Sam" means "happy" in Cantonese. However, Sam Sam died of kidney failure last year. Thus the central government decided to give the city another pair of pandas, originally called Yalin and Shurong in the mainland. Later, the local government decided to give them the same names as their predecessors – Hoi Hoi and Sam Sam. In Putonghua, both are known as Kai Kai and Xin Xin.
(macaunews/macaupost)