Macau municipal chief appointed new customs head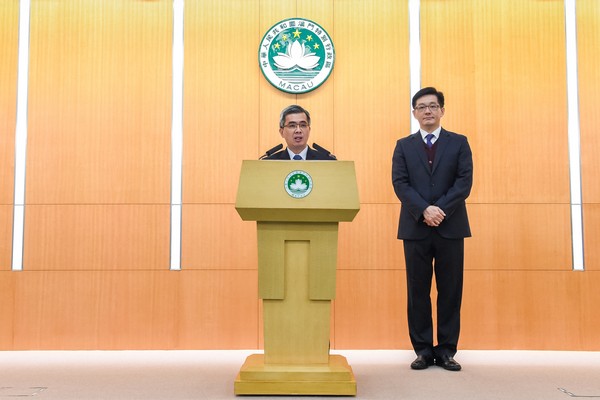 Chief Executive Fernando Chui Sai On announced on Saturday that Civic and Municipal Affairs Bureau (IACM) President Alex Vong Iao Lek has been appointed director-general of the Macau Customs Service by the State Council in Beijing.
The post had been vacant since Macau Customs Service director-general Lai Man Wa died last October in what an official investigation classified as suicide. Secretary for Security Wong Sio Chak was acting as the city's customs chief until Vong's appointment.
According to Xinhua, the State Council made the decision on Friday, following Vong's nomination by Chui.
The head of customs is one of Macau's 12 principal officials requiring official appointment by the central government.
Chui made the announcement during a press conference at Government Headquarters on Saturday.
Vong, 49, is a career civil servant and former president of the Sports Bureau (ID). According to his official biography, he does not practise any religion and holds a doctorate from the Beijing Sport University (BSU).
Vong became IACM president in 2014 when he replaced Raymond Tam Vai Man in the wake of the latter's involvement in a court case for suspected misfeasance about the allegedly illegal granting of burial plots. Even though Tam has meanwhile been acquitted of all charges, the government did not offer him his former post as IACM president. Tam now works in a much lower IACM position.
Vong, who never worked in the public security area, will be sworn into his new post this evening.
Meanwhile, Chui also announced on Saturday that Sports Bureau President Jose Fonseca Tavares would succeed Vong as new IACM chief, while Pun Weng Kun, the Sports Bureau's current vice-president, would succeed Tavares at the helm of the bureau, formerly known as Macau Sports Development Board.
(Macaunews/macaupost)