Macau lawmakers vote against 'congratulatory' motion for jailed dissident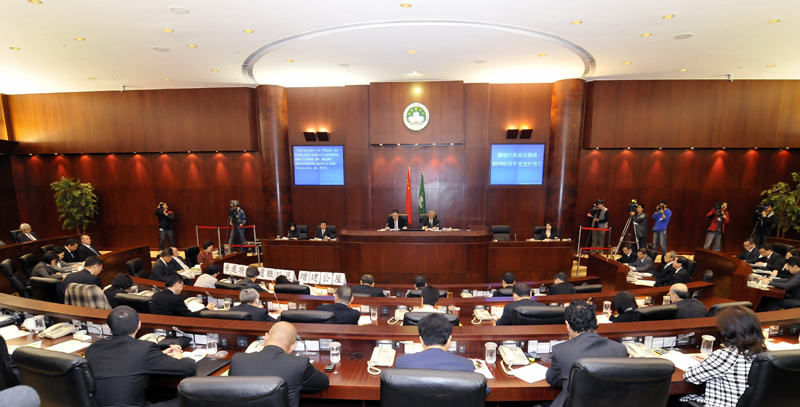 Macau, China, 19 Oct -Twenty-four out of Macau's 29 lawmakers, who were all present at Monday's Legislative Assembly's (AL) plenary meeting, voted against grassroots lawmakers Au Kam San, Chan Wai Chi and Ng Kuok Cheong's motion to congratulate jailed mainland dissident Liu Xiaobo on winning the Nobel Peace Prize 2010.
During the plenary meeting outspoken unionist and directly-elected lawmaker Jose Pereira Coutinho abstained from casting his vote and so did, as is customary, Legislative Assembly President Lau Cheok Va.
The 24 lawmakers who voted against the motion comprised all seven government-appointed lawmakers, nine of the legislature's 10 indirectly-elected lawmakers, as well as eight of its 12 directly-elected lawmakers.
According to The Macau Post daily during the meeting, several lawmakers who opposed the motion expressed their views against it, including indirectly-elected veteran lawmaker Fong Chi Ke-ong and directly-elected lawmaker Angela Leong On Kei, local casino tycoon Stanley Ho Hung Sun's fourth wife.
Urging local residents to respect the mainland's judicial system that was "in line with the local judicial system", Fong said that Liu had breached the law in the mainland and "that [breaking the law] is against the original spirit of the Nobel Peace Prize."
Indirectly-elected legislator Cheang Chi Keong slammed the trio's motion for "interfering with the mainland's judiciary", while several other lawmakers condemned the motion even after the vote.
Chief Executive Fernando Chui Sai On, as well as Legislative Assembly Vice-President Ho Iat Seng said in a joint statement after the vote that Liu getting awarded the Nobel Peace Prize amounted to a "blasphemy" to the world-renowned award.
The statement also said that awarding the prize to Liu was "an encouragement [for people] to commit a crime and an attack on the Chinese judicial system."
Directly-elected lawmakers Chan Meng Kam and Ung Choi Kun both said that the motion was "not appropriate" since it interfered with the mainland's judicial system.
Defending the jailed Nobel laureate Monday, Ng said that Liu had become "a symbol of the human rights struggle" in the mainland.
(MacauNews)