Macau lawmakers pass income and asset declaration bill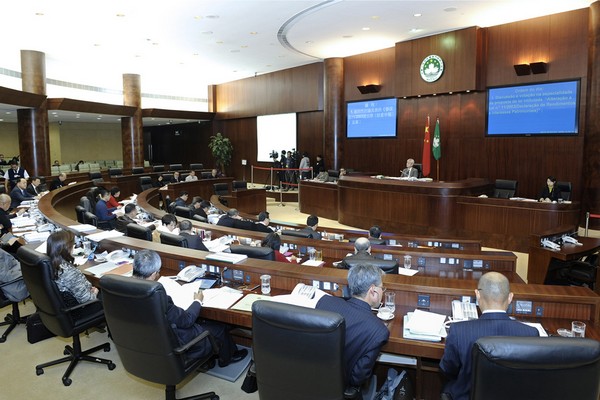 The Legislative Assembly (AL) Thursday passed the amended income and asset declaration bill drafted by the Commission Against Corruption (CCAC) after its second reading and vote.
Commissioner Against Corruption Vasco Fong Man Chong admitted during the meeting that the law was not a "panacea" which could cure all ills in society.
The bill will take effect after its promulgation in the Official Gazette (BO).
According to the amendment bill, principal and senior government officials including the chief executive, five policy secretaries, directors and vice-directors of bureaus and chiefs-of-cabinet as well as the members of the Executive Council, legislators andsenior judicial staff – judges and public prosecutors – are obliged to declare their income and assets for public inspection so as to attain a "clean" government.
The outline of the bill was approved in its first reading in December 2011, after which the legislature's First Standing Committee held six meetings to discuss the bill in detail. The final version was put to an article-by-article vote.
The major change in the final version is the inclusion of unpaid posts in non-for-profit institutions.
According to the bill, only some information about the assets of the officials concerned will be accessible to the public after it takes effect.
The assets that need to be declared include local and non-local real estate, company stocks and other capital investments. However, part of the information will be kept confidential, such as the location and value of the real estate owned by the seniorofficials.
Directly-elected legislator José Pereira Coutinho expressed doubts during the discussion over why only the number, nature and purpose of the real estate owned by senior officials will be accessible to the public, while their location and commercialvalue remain confidential.
Coutinho said that the bill could only tackle the tip of the iceberg of corruption without complete transparency.
Fong said that according to the United Nations Convention against Corruption, only an appropriate amount of information about government officials' property needs to be put in the public domain, stressing that the officials' privacy should be protected as well.
Fong insisted that the bill was appropriate for the present situation on Macau, according to The Macau Post Daily.(macaunews)