Macau lawmakers give green light to asset freeze bill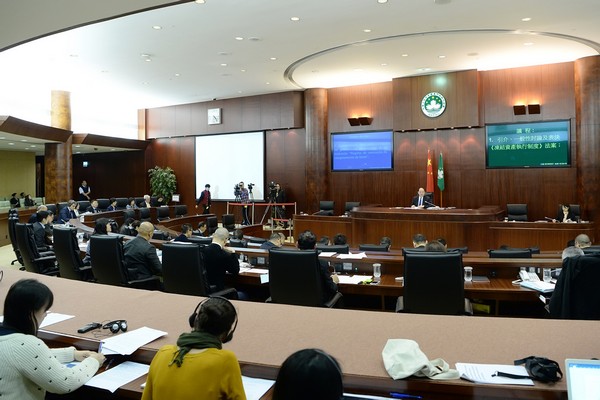 The Legislative Assembly gave an initial green light to Macau's first-ever asset-freezing law, to stop financing of both terrorism and the development of weapons of mass destruction.
And authorities say tougher anti-money laundering measures are also being prepared.
It was fast and unanimous.
In just 15 minutes, the Legislative Assembly passed the city's first-ever asset-freezing law on first reading.
It could give the government a new tool to keep money from going into terrorist activities or the development of weapons of mass destruction.
The Secretary for Administration and Justice says Macau had been facing double pressure to plug this legal gap.
Secretary Sonia Chan said: "The Central Government has been extending to Macau the implementation of several United Nations Security Council resolution on tackling terrorism and proliferation of weapons of mass destruction. In addition, in 2007 the Asia Pacific Group and the Group of International Finance Centre Supervisors drafted a Mutual Evaluation Report on the fight against money laundering and terrorism financing in the SAR, which mentions that the SAR lacks a law to enforce asset freeze".
Sonia Chan stressed that, before the end of the year, Macau will again be under review.
That review will also look at whether or not the city should lower its threshold on cross-border money flows, an issue that worries one lawmaker.
"At the time the organisation (Asia pacific Group) questioned whether the government was presenting the real situation of the SAR or if it truly meant to fight money laundering or other suspicious transfers".
In response, the director of the Financial Intelligence Office promised that there would soon be good news.
"On the cash declaration, this would involve a law revision and at this point we are already working on it. We hope that very soon we can move forward with a draft law", said Deborah Ng.
The city's casinos have routinely been mentioned as hotspots for money laundering.
But the only time Macau has been linked to the financing of terrorism and the development of weapons of mass destruction was in 2005.
That year the United States sanctioned Macau's Delta Asia Bank for allegedly laundering money for the North Korean government.
(Macaunews/tdm)