Macau, HK ink pact on arbitration co-operation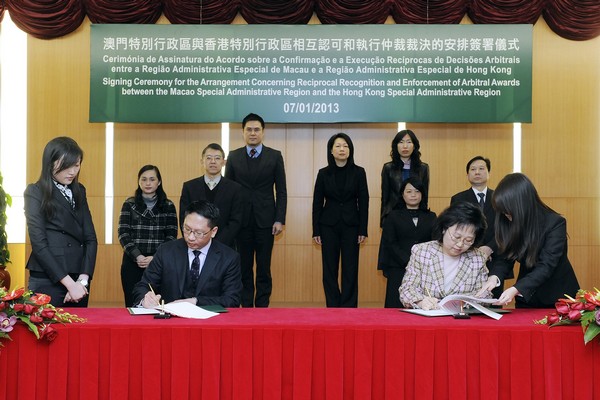 Macau and Hong Kong Monday signed an arrangement to provide mutual recognition and enforcement of arbitral awards in both places.
The pact was signed by Secretary for Administration and Justice Florinda Chan Lai Man and her Hong Kong counterpart Rimsky Yuen Kwok-keung during a ceremony held at the headquarters of the Macau government.
Under the arrangement cited by a Hong Kong government statement, the courts of Hong Kong shall recognise and enforce arbitral awards made in Macau pursuant to the laws of arbitration of Macau and the courts of Macau shall recognise and enforce arbitral awards made in Hong Kong pursuant to Hong Kong's arbitration ordinance.
Where a party fails to comply with an arbitral award, whether made in Hong Kong or Macau, the other party may apply to the relevant court in the place where the party against whom the application is filed is domiciled or the place in which the property of the said party is situated for recognition and enforcement of the award, according to the statement.
The statement quoted by The Macau Post Daily also said that the content of the arrangement was drafted in accordance with the spirit of the so-called New York Convention and is broadly similar to the existing arrangements on the same issue between Hong Kong and the mainland and between Macau and the mainland.
"The conclusion of the arrangement will add certainty to the enforceability of Macau arbitral awards in Hong Kong and vice versa, and provide a simple and effective mechanism in both jurisdictions on reciprocal enforcement of arbitral awards," the Hong Kong government statement said.
"It will also foster legal and judicial co-operation between Hong Kong and Macau in civil and commercial matters, and enhance Hong Kong's position as a regional arbitration centre for commercial disputes in Asia Pacific," the statement added.
Meanwhile, speaking to reporters after yesterday's signing ceremony, Yuen said that the two special administrative regions' needed to strengthen judicial co-operation also in other fields such as criminal cases. He said that the pact signed yesterday was an "important step" forward in judicial co-operation between the two sides, adding that reinforcing co-operation in other judicial areas "will be out next step."
Chan said that the arrangement signed Monday would render Hong Kong-Macau co-operation in the areas of civil and commercial law "more smooth.(macaunews)