Macau government to spend 1 billion patacas on office rents next year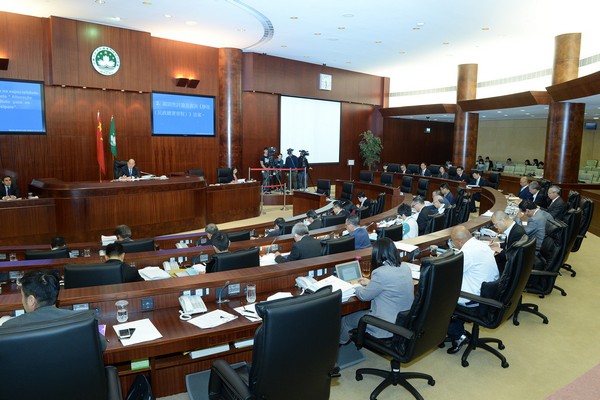 The government expects to spend about one billion patacas next year to pay rent for office spaces, a year-on-year rise of 38.6 percent, Secretary for Economy and Finance Lionel Leong Vai Tac said on Wednesday.
Leong and several senior officials of his portfolio including Finance Services Bureau (FSM) Director Iong Kong Leong attended Wednesday's plenum to present the government's 2016 budget bill, which was unanimously passed by the legislature.
The policy secretary said that the increase was mainly due to higher rents. He said that "it would be a good idea" to construct a public administration building as a way to reduce the amount of rent paid by the government to real-estate owners, pledging to discuss the matter with relevant public entities.
According to the bill presented by Leong, the government expects total receipts of 103.25 billion patacas next year, a 13.9 percent decrease from this year. He added that its 2016 expenditure was expected to reach 85.04 billion patacas, a 1.5 percent year-on-year rise.
Addressing the legislature's hemicycle, Leong also said he expected its revenue from direct gaming taxation to amount to 70 billion patacas in 2016, a drop of 14 billion when compared to this year's expected figure.
The bill will be reviewed in detail by a standing committee of the legislature, after which an article-by-article vote will be held in another plenary session.
Asked by several lawmakers why the government's public investment plan (PIDDA), budgeted at 11.06 billion patacas, was 24.6 percent lower than this year's, Leong replied that Secretary for Transport and Public Works Raimundo do Rosario hoped to be "practical and realistic".
(macaunews/macaupost)