Macau government proposes new taxi service regulation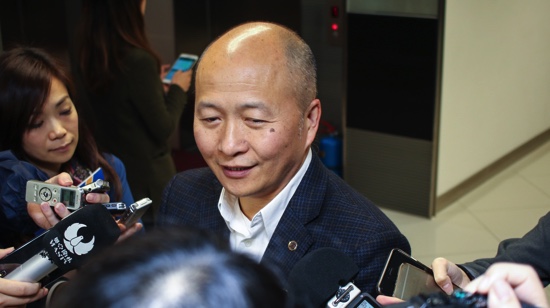 Traffic Consultative Council convenor Kuok Keng Man quoted Transport Bureau (DSAT) officials as saying on Tuesday that sting operations, audio recordings and up to three-month suspensions, or even total cancellations of taxi licences, are part of the government's proposed new taxi service regulation.
Kuok made the remarks when talking to reporters after a closed-door meeting at the bureau, which was attended by those councillors who are members of two working groups about traffic policies, plans and infrastructure, as well as public transport and community relations.
Kuok said that during the meeting DSAT officials briefed the council on the main points of the proposed changes to the taxi service regulation.
The bureau has held a public consultation on the proposed changes to the regulation, which has been in place for two decades.
The proposed changes include "passive" sting operations and the installation of recording equipment in taxis.
Talking to reporters, Kuok said the key changes include the adoption of "passive" sting operations to be carried out by plainclothes Public Security Police (PSP) officers, as well as the installation of recording equipment, but only if the taxi operators and drivers agree.
"A passive sting operation means that PSP plainclothes officers must not induce taxi drivers to break regulations," he said, adding that if the recording equipment is installed in a taxi, a notice will inform passengers of its existence.
"The amendments also clearly define the responsibilities of taxi drivers and operators… regarding drivers found to have broken the regulation up to eight times a year, the first offence after the eight previous ones will lead to a one-week suspension of their licence, for the second time the licence will be suspended for a month, while the third time it will be three months, which is the maximum amount of time a licence can be suspended," Kuok said.
"If a taxi licence holder is found breaking the regulation again during the suspension period…that would lead to the licence being permanently cancelled," Kuok said.
Kuok also said the proposed changes will be submitted to the Executive Council (ExCo), the government's top advisory body, next month, after which they will be passed to the Legislative Assembly (AL) for debate and vote.
(macaunews/macaupost)