Macau government plans covered bridge for 24-hour border crossing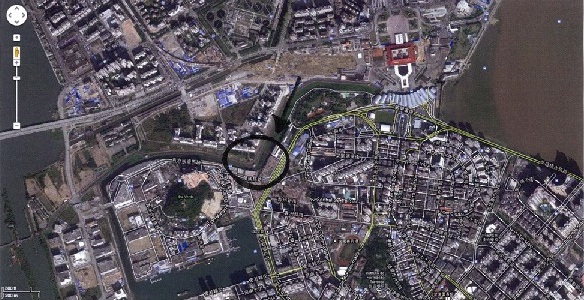 The Macau government said Tuesday that it plans to build a 450-metre-long cross-border covered bridge over the Duck Channel that will connect Macau with Zhuhai's Gongbei district next to the future Guangzhou–Zhuhai Intercity Mass Rapid Transit railway station.
The government also said that the border crossing for pedestrians only was planned to operate around the clock.
Seven government representatives, including Secretary for Transport and Public Works Lau Si Io and his office's Chief-of- Cabinet Francis Wong Chan Tong, jointly presided over a press conference to give a briefing on the planned border checkpoint between the northern tip of the Macau Peninsula and Gongbei, as well as other related facilities.
During the press conference, Lands, Public Works and Transport Bureau (DSSOPT)'s Urban Planning Department Chief Lao Iong presented the core details of the project.
According to Lao, the main parts of the project include a pedestrian-only covered bridge of about 450 metres over the Duck Channel, which marks the Macau-Zhuhai administrative border, an immigration and customs building and transport facilities such as a station for Macau's future light rapid transit (LRT) railway, as well as a plan to clean up the heavily polluted 2.3-kilometre long channel and to beautify nearby areas.
Lao pointed out that the immigration building will be located on the site of the current Nam Yue Supply Market and surrounding areas which at present house the government's examination centre for vehicles in Ilha Verde, totalling 28,400 square metres.
"If as expected the checkpoint is open 24 hours, the maximum capacity of the new access (checkpoint and covered bridge) is 200,000 – 250,000 person/time per day," Lao said.
Wong Chan Tong said that the Macau and Guangdong governments would try their "best" to submit the project to the central government this year.
According to the Macau Post Daily, neither Lau nor Wong disclosed a timetable for when the new checkpoint and cleanup of the heavily polluted channel Neither did they reveal the budget for the project.
Wong also said that the local government would bear the whole construction expenditure as the main part of the project is in Macau.(macaunews)