Macau government consider "panda theme park' in Coloane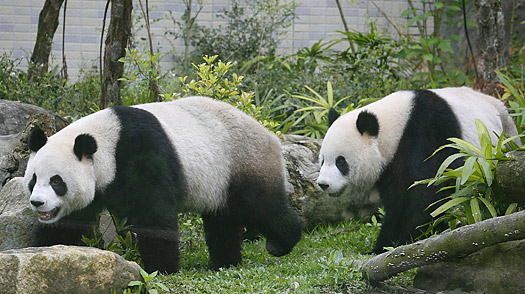 Macau, China, 21 Dec – Newly inaugurated Chief Executive Fernando Chui Sai On said Sunday that his government is considering to establish a "panda theme park" at Seac Pai Van in Coloane to house the panda pair which will be given as a gift to Macau by the central government, according with The Macau Post Daily.
Chui spoke with reporters on the sidelines of the Macau government's half-hour reception at Macau Tower to celebrate the 10th anniversary of Macau's return to the Motherland.
President Hu Jintao announced the central government's decision to give a pair of giant pandas Macau during a banquet at the Macau Dome in Cotai on Saturday.
Chui said he had listened to opinions from the Civic and Municipal Affairs Bureau (IACM), which according to a preliminary assessment confirmed that it was possible to set up "panda theme park" in Coloane.
Chui explained that after a group tasked with the preparations for the arrival of the two pandas has been established, the government will get in touch with the mainland authorities to arrange the transfer.
He said that the government hoped the pandas could arrive in Macau as soon as possible, so that the general public could fully appreciate the central government's gift.
He "wholeheartedly" thanked President Hu Jintao and the central government for their "substantial gift" to Macau.
Meanwhile, the chairman of the Macau Ecological Society, Ho Wai-tim, told China Daily that the panda habitat and related facilities should cover an area of at least three sq km, which represents 10 percent of Macau's total land mass of 29.6 sq km, adding that Cotai, which measures five sq km, would be best place to build the pandas' home.
Ho pointed out that Cotai will be easily accessible for tourists once the light railway has been built and added that the establishment of a panda habitat would be a boon for Macau's eco-tourism sector.
Ho also said that about 20 locals had received preliminary training on raising pandas in the past few years.
(MacauNews)