Macau customs chief killed herself by putting plastic bag over her head and slashing wrists and neck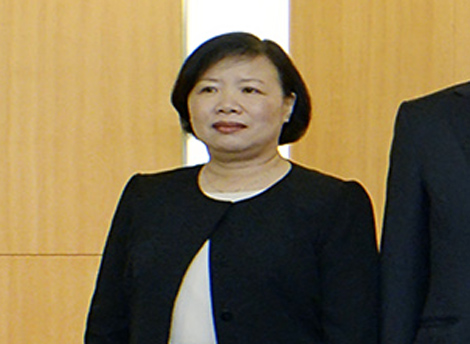 Macau's first ever woman customs chief – whose body was found slumped in a public toilet on Friday – had suffered slash wounds to both her wrists and her neck, swallowed sleeping pills and had a plastic bag over her head, the judiciary police announced Saturday.
The Macau police authorities have classified the death of mother-of-two Lai Man Wa (56), as suicide by asphyxiation.
Macau's Chief Executive Chui Sai On and the Secretary for Security, Wong Sio Chak, met Saturday customs staff to discuss the implementation of "emergency measures" to cope with what were described as "current matters being handled by the department".
A key matter – in which Lai was closely involved – was ongoing negotiations with senior mainland officials over a historic expansion of the Macau's maritime boundary.
Saturday's meeting also pinpointed the fight against illegal immigration as the target of the emergency measures. In a statement from his office, Wong said the meeting was also held to "help to improve the emotional condition of the personnel".
Wong Sio Chak took over the position of Lai until the Chief Executive appoints a new customs chief that is due to happen next week.
Last year, Lai stressed that Macau's economy could benefit from a successful expansion of its marine jurisdiction.
In December last year, President Xi Jinping announced while visiting Macau, that mainland China and Macau had begun talks to ensure the "delimitation" of maritime sovereignty.
Macau does not have jurisdiction over all of its surrounding waters. Government officials believe that the new scheme could promote diversification of the region's economy, while also boosting cooperation with Guangdong.
Secretary for Security, Wong Sio Chak said Friday that Lai had appeared normal in the hours before her death and her behaviour did not suggest that anything was wrong.
She had been scheduled to attend a security meeting in Zhuhai at 4.30pm on Friday, the day she died.
Friday the Chief Exeutive, when announcing the dead of Lai also said she was not under any investigation.
Lai joined the Public Security Force of Macau in 1984 and worked for the marine police the following year.
Since March 1999, she had been given various leadership roles, including deputy director of the Marine Police Bureau and deputy director-general of customs.
She was appointed customs chief in December 2014 when Chui Sai On reshuffle his cabinet and started his second term as Chief Executive of Macau.
(macaunews)