Macau Chief Executive describes Alexis Tam as 'good colleague'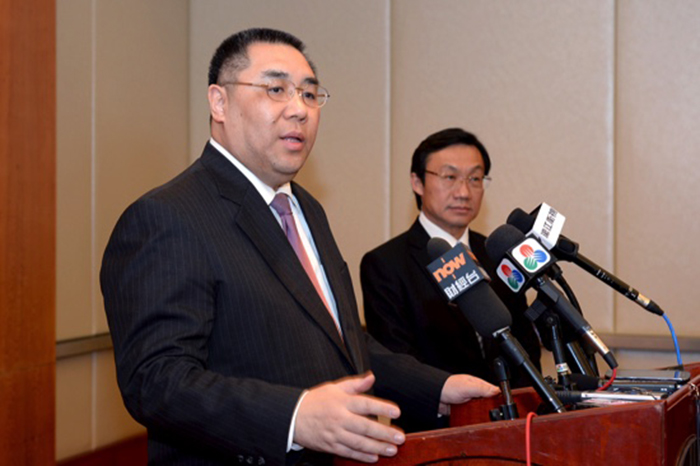 Chief Executive Fernando Chui Sai On said on Monday that Secretary for Social Affairs and Culture Alexis Tam Chon Weng was a hard-working official, praising him as a "good colleague".
Chui spoke to reporters at the airport before departing for a working visit to Beijing.
When asked by a reporter how he evaluated the work performance of Tam, who lately has come under considerable criticism by some segments of the population, particularly after his controversial decision to redevelop the plot where the former Hotel Estoril is located, Chui asked the reporter rhetorically "How would you evaluate him?"
The reporter replied, "You are his superior, you should evaluate him."
Chui then said, "I have been working with Tam for more than 10 years. I think he is a hard-working official. As a policy secretary, he should humbly listen to the opinions from residents, the media and the legislature, particularly criticisms. We will carefully look into the various criticisms", Chui said.
"I am not assuming that Tam is using his power in an improper way and that he is capricious, just like a bad boy", Chui said.
When asked by the media about the government's decision to build an infectious disease centre next to the public Conde de Sao Januario Hospital Centre, Chui said that it was necessary for a [major] hospital to have isolation facilities.
Chui also said his government's decision to build the centre at the location was based on the principle that any government has to strive to build the necessary facilities in case of an outbreak of an infectious disease.
Chui also said he would visit Portugal with a delegation in from 10 to 15 September, where he was scheduled to meet Portuguese President Marcelo Rebelo de Sousa to discuss deeper co-operation between the two sides.(Macau News / The Macau Post Daily)