Macau Chief Executive attends opening of Sichuan Sports complex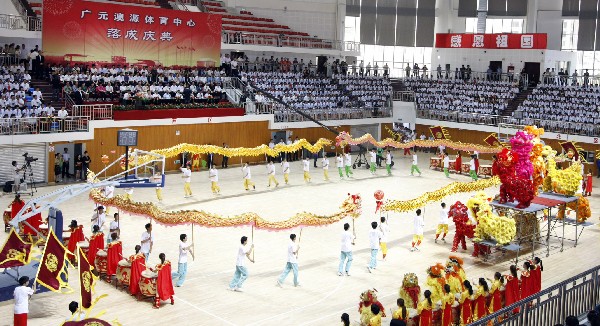 Chief Executive Fernando Chui Sai On attended Tuesday the opening ceremony of a sports complex financed by Macau, as part of the Sichuan province's reconstruction after the 2008 earthquake.
Chui and former CE Edmund Ho Hau Wah, along with other Macau delegation members, attended the high-profile ceremony with large-scale folk dance performances, sports matches, and speeches by leaders from both sides.
During his opening speech, Chui said the sports complex, with a tag of RMB 200 million, will not only promote a healthy life-style in the region, but will also promote sport and cultural exchanges between Sichuan and Macau
The  Aoyuan Sports Stadium with 25,500 square meters, located in the city of Guangyuan, is the major project among the 105 projects financed by Macau as part of the reconstruction efforts to help Sichuan recover from the 7.8 Richter–scale quake that hit Wenchuan county in 2008.
All the projects are expected to be finish by September.
After the quake, Macau gave RMB 4.6 billion (US$ 726 million) to finance the 105 reconstruction projects throughout the area, 20 of which are situated in Guangyuan. (macaunews)