Hengqin campus enters final stage of construction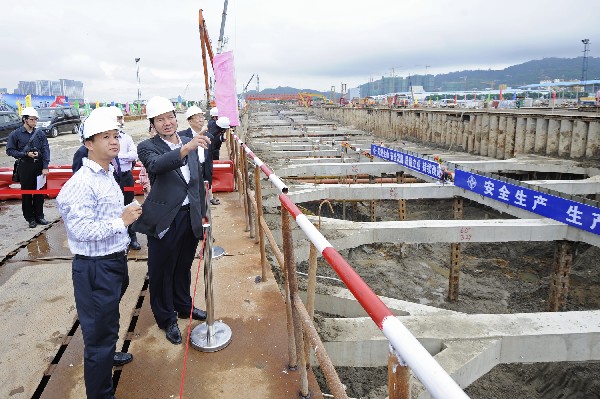 The construction of the University of Macau's new campus in Hengqin will enter into its final stage in May, and will be finish by the end of the year as scheduled.
During a visit to the site by the Secretary for Social Affairs and Culture Cheong U, the Assistant Coordinator of the Infrastructure Development Office, Chau Vai Man said the 80 buildings in the new campus under construction in Zhuhai (Guangdong province) would be completed next month.
The new campus will be open next autumn.
The project have 945,000 square meters in floor area with the capacity to accommodate over 10,000 students and 800 university staff.
According to Chau transportation networks for the 1.09 km square campus are also progressing in accordance with the schedule, including the underwater tunnel connecting the school to Taipa 300 meters away.
Chau also said the core section of the tunnel (that would be 75 meters underwater upon completion) was due to be finished in June. After this the entire length of the tunnel will be linked to Taipa by August.
The site is now a dried cofferdam where seawater is pumped out to facilitate the construction, after which the embankment would be demolished and 300,000-ton vessels will be able to pass through the channel between the campus and Taipa.
Zhao Wei, the rector of UM, pointed out that some facilities in the new premises, including some parts of the library, the cultural centers, and sports grounds, would be open to the use by the public.
Cheong U said while the completion time is this year, he expected the relocation procedures to take months, and therefore practical use of the facilities would not be possible until next autumn.
As to the University of Macau's existing campus in Taipa, Cheong said the government had decided not to put it up for commercial use – instead it would be used for cultural or social purposes.(macaunews)