Govt vows to find 'largest common denominator' in 100,000 opinions about political development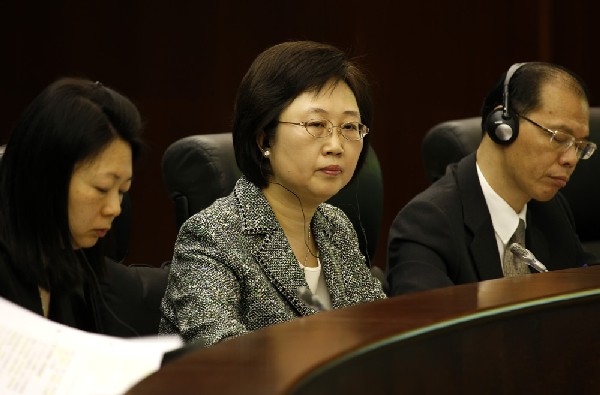 Secretary for Administration and Justice Florinda Chan Lai Man said Wednesday the government would find out the largest common denominator in the opinions gathered by the government on the city's political development and then reflect it in the government-initiated bills about the possible changes in the methods of the elections for the Legislative Assembly (AL) next year and the chief executive in 2014.
She made the pledge on the sidelines of a reception organised by the Macau Federation of Trade Unions to celebrate Labour Day.
Chan, attending the reception as a guest, told the media that the opinions gathered by the government about its political development drive comprise both "mainstream" and "non-mainstream" views, according to The Macau Post Daily.
The government announced earlier this week that it had received over 100,000 opinions and signatures from various civic associations.
Representatives of the associations have indicated that the majority of the opinions supported the government's +2+2 and "+100" options.
The "+2+2" option means that two directly-elected and two indirectly-elected seats would be added to the legislature, while the "+100" opinion means an increase in the number of members of the Chief Executive Election Committee by 100 to 400.
Currently the legislature comprises 12 directly-elected, 10 indirectly- elected and seven government-appointed lawmakers.
Chan said all opinions would be uploaded onto the government website to be accessed by the public unless people who had given their view had expressly stated they did not wish their views to be made public.
Meanwhile, Chief Executive Fernando Chui Sai On, attending the same occasion as a guest, expressed his gratitude to all residents, associations and academics that have given their views on the political development.(macaunews)