Former public prosecutor sworn in as Macau's first top female judge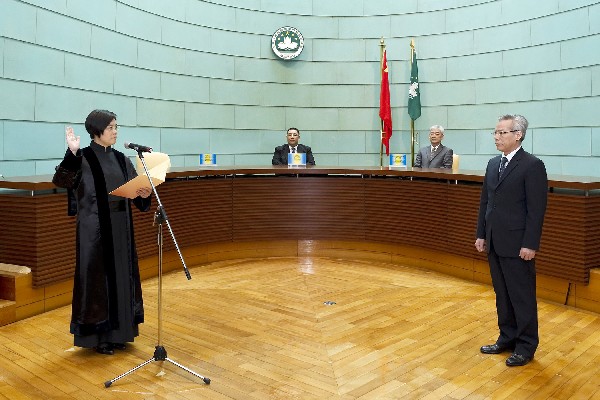 Macau, China, 5 Jan – Former public prosecutor Song Man Lei  Wednesday was sworn in as Macau's first female judge of Macau 's Court of Final Appeal (TUI), The Macau Post Daily reports today.
Chief Executive Fernando Chui Sai On, Legislative Assembly President Lau Cheok Va and about a hundred judiciary and government officials attended the swearing-in ceremony held at the Court of Final Appeal (TUI), whose lead judge, Sam Ho Fai, presided over the function. Chief Public Prosecutor Ho Chiu Meng also attended the ceremony.
Song was appointed by Chui based on a recommendation by the Independent Committee for the Nomination of Judges to replace Chu Kin, who passed away in November after a traffic accident in Guangdong in August last year that had left him in a coma for three months.
Macau's top court (TUI) comprises three judges.
Song said in her swearing-in speech that she will uphold the Macau Basic Law, devote herself to her job and be fair and incorruptible.
When asked by reporters about her appointment, Song declined to comment on her new post and if there were any challenges ahead, by only saying, "You can observe how I do my work in the future," before she rushed off.
Born in 1966, Song obtained a master's degree in law from Peking University . She also attended Portuguese language and culture courses at the University of Coimbra in central Portugal .
Song began working in the Public Prosecution Office in 1996 and had served as an assistant public prosecutor-general since March 2000.(MacauNews/Politics)