Fire breaks out at A-Ma Temple, Macau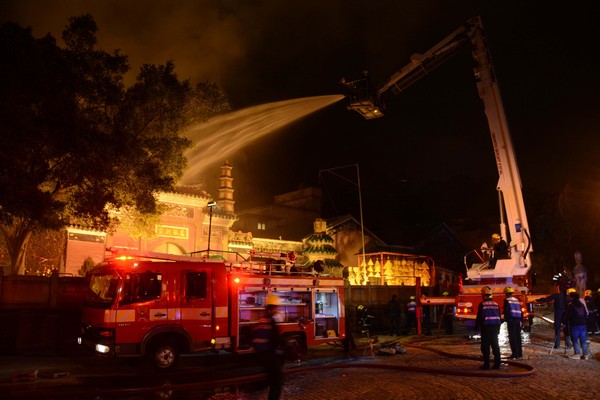 A fire broke out early on Wednesday morning at the A-Ma Temple, resulting in severe damages to part of its interiors.
A short-circuit is believed to have caused the incident which did not harm anyone inside the temple.
Meanwhile, the Cultural Affairs Bureau is assessing the severity of the damage caused to the iconic site's structure and the affected area will remain close to the public until further notice.
The third day of the Chinese New Year was off to a bad start at the A-Ma temple.
The popular prayer site could be seen engulfed in flames during the early hours of the morning, damaging part of the temple's interiors, including one of the main altars.
Fire Services took some 10 minutes to extinguish the fire which broke out at 5 am.
A preliminary report has traced the fire to a short-circuit in a decorative lantern and not to the many incense stick and candles lit at the time of the incident.
"The fire damaged one of the temples inside the A-Ma complex. Some plaques, altars, and furniture were burnt. The fire was uncovered by an attendee of the temple and he tried to extinguish it himself. Only after failing at doing so did this person report the incident to the authorities who reached the scene almost immediately", said Cheong Chi Van from the Fire Services Bureau.
Representatives of the Cultural Bureau have in the meantime assessed the damage to the temple's structure, which despite not being irreversible could take several weeks to address.
Cultural Affairs Bureau Director Ung Vai Meng said: "This is a World Heritage site. We are really saddened about the incident. A report will be delivered to the State Administration of Cultural Heritage. They will then inform the World Heritage Committee".
In the wake of the fire, other temples in Macau have been advised to set up fire prevention measures and review its electrical outlets.
(Macaunews/TDM)