Diplomat stresses Macau's 'important' role in nation's external ties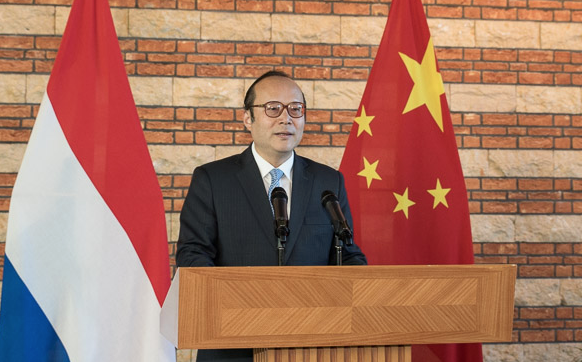 Chen Xu, China's ambassador to the Netherlands, yesterday praised Macau's "important" role in the nation's foreign policy.
Around 200 students and scholars attended a public lecture by Chen Xu at the Macau University of Science and Technology (MUST) in Taipa on Monday.
The diplomat, who also heads China's permanent mission to the Organisation for the Prohibition of Chemical Weapons (OPCW) headquartered in The Hague, was invited by the private university to give a lecture titled "China's Diplomacy Under New Circumstances".
Addressing his audience, Chen said there were "more opportunities than challenges" facing the nation's diplomacy, adding that China was playing an increasingly significant role in the international arena. He also said the nation was becoming increasingly active in international organisations, notably the United Nations (UN), pointing out that there are currently over 3,000 Chinese Blue Helmets participating in UN peacekeeping missions all over the globe.
Asked by a reporter during the lecture whether Macau residents could contribute to the nation's diplomatic missions, Chen said they could participate within the "One Country, Two Systems" framework and in accordance with the Macau Basic Law.
The senior diplomat also said that Macau's external relations constituted an "important integrated part"of those of the nation. "I know the Macau Special Administrative Region participates in many international and regional arrangements," Chen said.
(Macaunews/macaupost)