Confidential Macau patient medical records strewn across city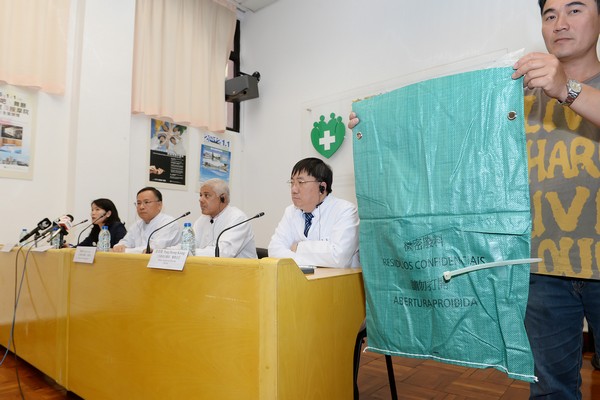 An alleged refusal to dispose of confidential documents as instructed has resulted in a large amount of patients' papers being strewn across the avenue outside Santa Rosa de Lima English Secondary School, health authorities have explained.
Early Tuesday at around noon, hundreds of documents from Hospital Conde S. Januário's laboratory center bearing patients' names, ages and medical card numbers were found lying scattered along the Av. do Dr. Rodrigo Rodrigues, according to a Macau Concealers report.
During a press conference held Tuesday afternoon at the Health Bureau's headquarters, it was revealed that the papers came from the trunk of a car that was en route to an incinerator, but this movement of files was against standard procedure.
The authorities' preliminary inquiry into the episode indicates that six full-time assistants working in that center had allegedly handled the waste contrary to regulations, which require general waste be stored in a black plastic bag while classified papers are placed in green ones for future disposal, all of which is to be conducted while under staff surveillance.
"They have been exercising this [incorrect] practice for the last two months, in accordance with their own procedures," said physician Lei Wai Sang, referring to the to-be-processed papers being kept in black bags instead of green ones.
The hospital's management also claimed that the staff's supervisors have been unaware of the methods employed by their subordinates in dealing with the documents, which are mainly related to laboratory analysis. Management stressed that a large portion of the papers, only around 60 of which have been recovered as of Tuesday afternoon, did not "really belong to the confidential-level group of documents."
The exact quantity of files missing is yet to be identified, as another administrative official, Anabela Luiza do Rosario, told media that it was "hard to estimate since the to-be-processed papers had been mingled with general trash over the previous two months."
It was also believed that the lost papers included a small portion of document copies to be sent to Hong Kong, which the authorities said might contain patients' contact details.
The Office for Personal Data Protection has also launched a probe into Tuesday's episode. The staff member allegedly responsible for the information spill, alongside the other five employees involved, will resume their duties until further evidence emerges that would allow suitable penalties to be applied, according to the health authorities. "We will also carry out an internal inquiry as soon as possible; we wouldn't let go of those involved if penalties are required," said Lei.
"The management will also reflect on this incident and the importance of our staff sticking to the guidelines in operation," he added. "It serves as a good lesson for us to see if there are shortcomings in supervision."
Mario Évora, acting hospital head, said that the delivery staff had returned to the scene immediately upon realizing that the documents had spilled onto the road, and had called upon citizens in possession of the missing documents to contact the authorities.
The officials also expressed their apologies to the individuals involved on Tuesday. However, they also admitted that much of their follow-up efforts are pending ongoing investigation, the outcome of which they pledged would be publicized.
(macaunews/MDT)