Chui vows to present new light rail budget to legislature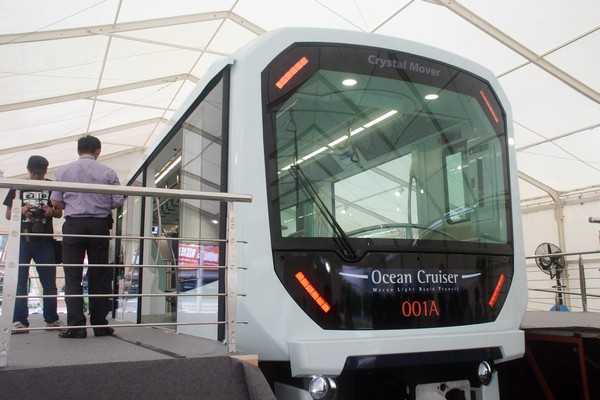 Chief Executive Fernando Chui Sai On told reporters Sunday that he has already ordered Secretary for Transport and Public Works Lau Si Io to come up with a new budget for the construction of the first phase of the Light Rail Transit (LRT) system "as soon as possible", in time for the presentation of the 2013 budget bill scheduled for November.
Chui added that Lau had told him he would present the new LRT budget to the legislature and make it public, adding, "We hope that we shall have this new budget for the LRT ready when we submit the 2013 budget bill to the Legislative Assembly."
According to Article 71 of the Macau Basic Law, the city's legislature has the power "to examine and approve budgets introduced by the government."
Chui's comment came after the Commission of Audit (CA) and the Commission Against Corruption (CCAC) separately released hard-hitting reports on the handling of the LRT project by the Transportation Infrastructure Office (GIT).
The Audit Commission said its report was based on the current construction budget – about 11 billion patacas – for the first phase of the LRT project. The audit report found that the budgets for the two main construction projects – the depot and construction of the LRT section in the centre of Taipa – have increased 45 and 32 percent, respectively.
Meanwhile, the city's graft buster said in its investigation report that the GIT had failed to release "full" technical data and criteria to support the option it chose for the LRT route – which according to the current plan would pass quite close to some residential buildings in Nape.
"It is very normal for the Commission of Audit and Commission Against Corruption to produce analytical reports after receiving complaints from the public […] The reports are neither binding nor are they decisive. They are only suggestions. They are not decisions," Chui stressed, adding that once he gets feedback from Lau, a final decision on the LRT routes will be made.
According to Chui, any decision on the LRT routes should be based on the principle that it serves the public, benefits sustainable development, be in line with the city's financial capability, meet safety and quality standards and help solve Macau's traffic woes.
"And of course, [any decision on the LRT routes] should listen to public opinions because residents are the actual users," Chui added, according to The Macau Post Daily.
According to a previous announcement made by the Transportation Infrastructure Office in June last year, the budget for the construction of the first phase of the LRT project at that time had already risen to about 11 billion patacas from its previous budget of 7.5 billion patacas in 2009, an increase of 47 percent. In 2007, the budget for the LRT project stood at just 4.2 billion patacas.
The first phase of the LRT, which includes 21 stations – 11 in Taipa and Cotai and 10 in the Macau Peninsula, is slated to open in the first quarter of 2015.(macaunews)