Chui to raise cross-border driving scheme in Beijing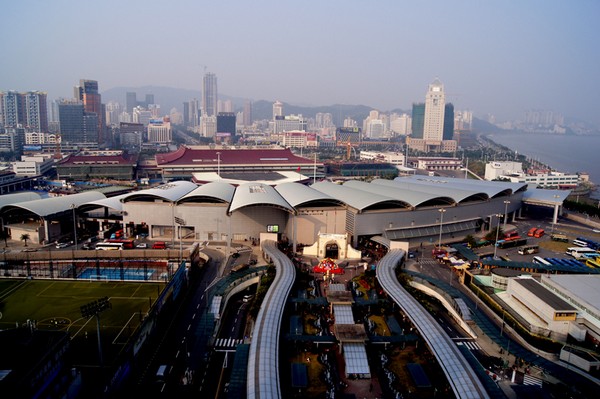 Chief Executive Fernando Chui Sai On said Monday that he was visiting Beijing to "exchange views" on a future Macau-Guangdong cross-border driving scheme but was quick to add that he did not plan to put it on the agenda for this year's Guangdong-Macau Framework Agreement co-operation work.
Chui also said that a new border checkpoint and measures to tackle floods affecting the city's old quarters were also on the agenda of his three-day trip. The chief executive meetings are slated to start today. He and his entourage are scheduled to return to Macau tomorrow.
Chui made the remarks at the local airport Monday before heading to Beijing to meet senior officials from the central government.
He said main purpose of his working visit was to get official approval for new the Canal dos Patos border crossing as well as to gather advice on projects to tackle the frequent flooding in the city's old quarters.
"We will only exchange views [on the cross-border driving scheme] because it is part of the Guangdong-Macau Framework Agreement," Chui was quoted by The Macau Post Daily as saying, adding, "I've heard a lot of opinions on this in the lastcouple of days and the government will look into the transportation situation and the capacity [of Macau's traffic]."
The "self-drive traveller" scheme allows registered vehicles from Guangdong to drive to Macau and vice-versa. Currently, cars from the mainland can only be driven into Macau with a special cross-border permit, and drivers also need to have a cross-border driving licence. The scheme, which was implemented in Hong Kong last year, aims to loosen the restrictions placed on cross-border motorists, involving a one-off temporary application process.
Chui also said that the driving scheme was not the key project that his delegation will be discussing with senior officials in Beijing, but stressed that as the scheme is included in the agreement, it was a "only a normal procedure" that the central and local governments exchange views on the matter.
"It's not a project that we can just bring up and promote just like that, I agree that we need to consider a lot of things, but I want to say again that exchanging views is a normal way of handling things. We haven't said that it will be on the agenda this year and that we have to sign an agreement," Chui said, adding that Secretary for Transport and Public Works Lau Si Io would look into the situation, study the capacity of the city and weigh the pros and cons if the scheme is implemented.
"Secretary Lau has brought the subject up before that many Macau vehicles from different sectors are going to different parts of Guangdong every day. I want to say once again that we're just there [in Beijing] to exchange views and not to confirm that it's going to happen. This is not the aim [of this trip]," Chui stressed, pointing out that getting official approval for the new Zhuhai-Macau border checkpoint is what the trip is mainly about.
Chui's delegation includes Lau and Macau Customs Service Director-General Choi Lai Hang.
Chui added that aside from visiting the Ministry of Public Security and the General Administration of Customs, the trip will also include visits to the Ministry of Land and Resources and the Maritime Safety Administration to discuss infrastructure and anti-flooding projects.
Chui said that a new port management model and more efficient customs clearance were also on the agenda.(macaunews)