Chui presents proposals for Macau to promote nation's 'peaceful unification' with Taiwan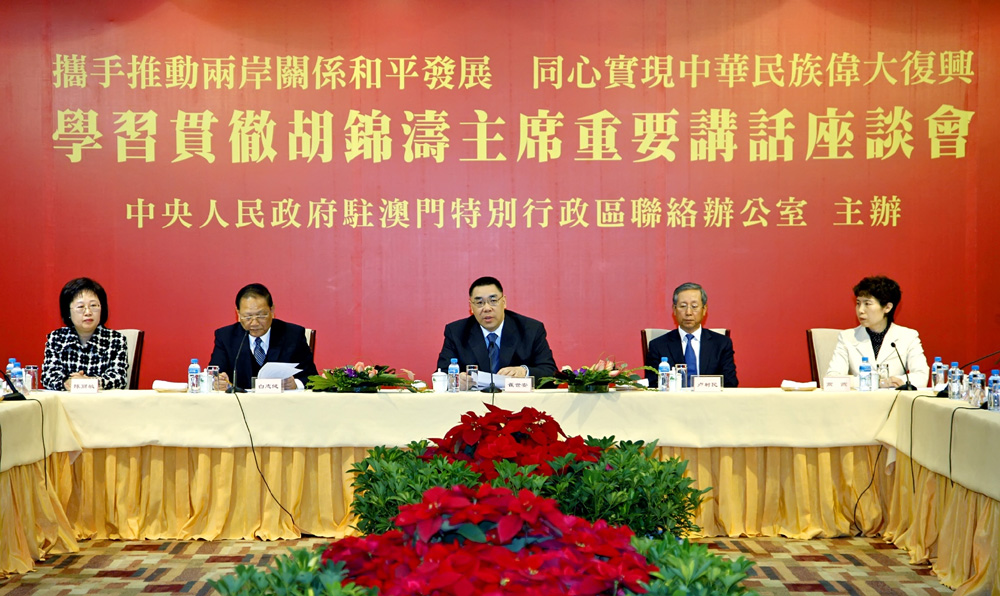 Macau, China, 31 Dec – Chief Executive Fernando Chui Sai On presented Wednesday four proposals for Macau to play a more active role in promoting the nation's peaceful unification with Taiwan.
Chui, who took office on December 20, made the proposals in a speech at a colloquium hosted by the Liaison Office of the Central People's Government in Macau, according to The Macau Post Daily.
The chief executive pointed out that President Hu Jintao held an important speech at the end of last year to promote unification between the mainland and Taiwan.
During the colloquium Chui said that Macau and Taiwan had been able to strengthen their ties since last year due to "great changes" on the island at that time.
However, Chui admitted that the relaunch of direct cross-Strait passenger and cargo flights was posing "short-term" challenges to Macau's civil aviation sector, which for many years benefited from the local airport's role as a transit hub for "semi-direct" flights between Taiwan and the mainland.
During the meeting the chief executive defend the cooperation in all areas between Macau and Taiwan, studying Taiwan's development experiences, raising Macau's sustainable development level and supporting Macau residents studying and working in Taiwan.
Chui also propose strengthening cooperation between Taiwan and Macau in certain sectors such as trade, tourism, the MICE (meetings, incentives, conferences and exhibitions) sector, culture, education and innovative industries and carrying out an appropriate diversification of Macau's economy.
The chief executive propose to reinforce Macau's role as a service hub and, in particular, strengthening ties of cooperation between Macau, Guangdong, Hong Kong, the Portuguese-speaking countries and the European Union, as well as intensifying Macau's cooperation with overseas Chinese business organisations, in order to offer small-and medium-sized enterprises from Taiwan quality services.
Finally Chui Sai On proposed deepening the study of the mechanisms, ways and formulas of speeding up cooperation between Macau and Taiwan, based on the principle of "One Country, Two Systems."
At the end of his speech, Chui stressed that Macau's population had always shown its great patriotism and support of the nation's unification.
(MacauNews)