China starts building Hong Kong-Zhuhai-Macau Bridge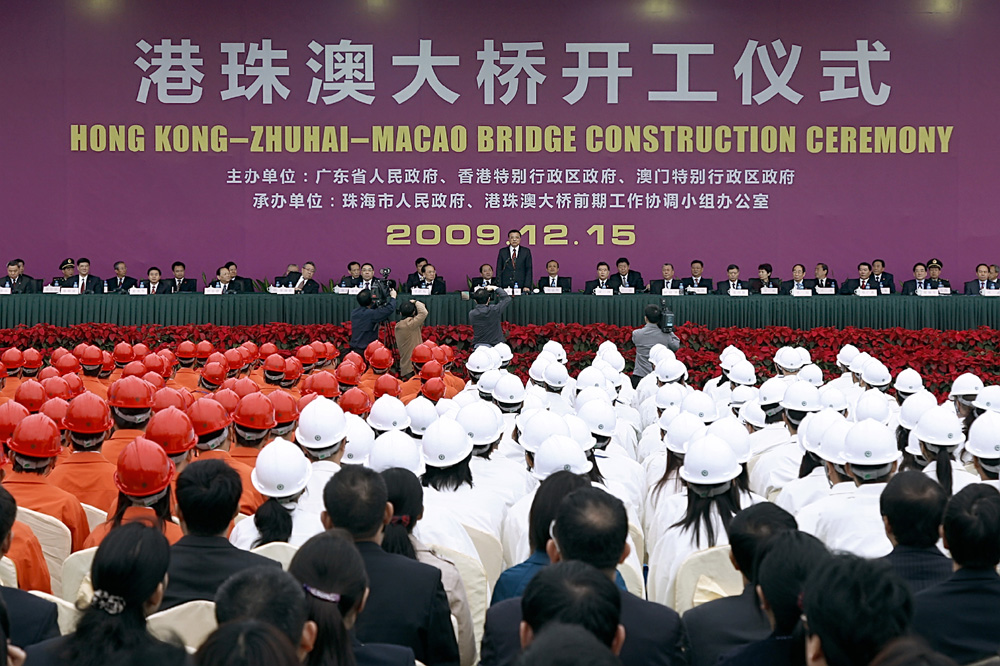 Macau, China, 16 Dec – Construction of the world's longest sea bridge linking Hong Kong to Zhuhai and Macau began on Tuesday, in a bid to bolster the integration and future growth of the Pearl River Delta.
Starting from Lantau Island in Hong Kong, the Y-shaped bridge, with a total length of 50 kilometers, will cost over 73 billion Yuan (US$ 10.7 billion) and will be completed in 2015/2016.
The bridge is to be built to withstand winds of up to 200 km per hour, earthquakes of up to magnitude 8 and collisions with ships weighing up to 300,000 metric tonnes, said Zhu Yongling, an official in charge of the project construction.
The mammoth bridge includes four man-made islands, one near Hong Kong International Airport and the second near Zhuhai's Gongbei border town, and 2 islands for the tunnels.
"It is designed with a service life of 120 years," Zhu also said.
Zhu pledged that the project will endeavour to protect the maritime environment and marine life, such as pink dolphins.
On completion, it would take about half an hour to travel from Zhuhai or Macau on the west bank of the Pearl River to Hong Kong on the east bank, compared with the current travel time of three hours, he said.
About 750 guests and officials from the mainland, Macau and Hong Kong were present at the 35-minute ceremony.
Macau's Chief Executive Edmund Ho said he believed the bridge would greatly enhance cross-border transport in the Pearl River Delta region and promote integration of Hong Kong, Macau and Guangdong.
First Vice-Premier Li Keqiang presided over the inauguration ceremony in Zhuhai, expressing hopes that the bridge could bring the mainland, Hong Kong and Macao closer.
"The construction of the bridge is a milestone event," Li said at the ceremony.
"It is a move for Hong Kong, Macau and the Pearl River Delta region to cope with the global economic downturn, boost investment and inspire people," he said.
Hong Kong Chief Executive Donald Tsang Yam-kuen, that also attended the ceremony, said that " Through a more convenient and fast transport network, Hong Kong's financial, tourism, trade and logistics and professional services can become better integrated with the Pearl River Delta and the surrounding areas".
In a blueprint for the region released in January, Beijing's top economic planning agency said the PRD, encompassing Hong Kong and the gaming center of Macau, could become one of the world's leading economic hubs by 2020.
(MacauNews)