Chicken vendors test negative for avian flu in Macau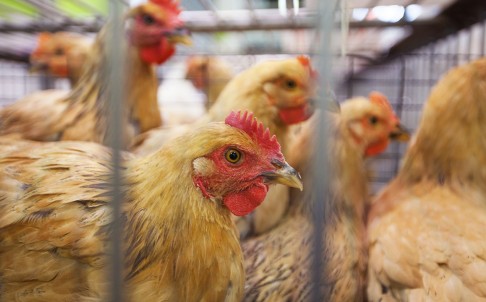 The three vendors who sold live poultry at the Temporary Patane Municipal Market's Fat Kei stall tested negative for the H7-type avian influenza on Thursday, the Health Bureau (SSM) said in a statement, pledging to closely monitor their health status.
The trio were taken to isolation rooms on Thursday for 10-days medical observation, the statement said, adding that the bureau held an information session on Thursday afternoon to provide vendors who sell live poultry in the market with health advice.
The government decided to stop the sale of live poultry in the city for three days starting from Wednesday after discovering the H7-type avian influenza in an environmental sample at the stall.
According a statement released by the Civic and Municipal Affairs Bureau (IACM) on Wednesday night, the chickens sold by the Fat Kei stall were imported from Gaoming district of Guangdong's Foshan city.
However, speaking to government broadcaster TDM on Thursday, the son of the stall's owner surnamed Kam said the stall actually imported chickens also from other cities such as Zhuhai and Zhongshan, adding that the IACM announcement 'was issued in too much of a hurry'.
TDM also quoted the bureau as saying that it would check whether chickens imported from places other than Gaoming had been sold by the Fat Kei stall.
Meanwhile, speaking to reporters on the sideline of the unveiling of a monkey statue in Taipa, IACM Management Committee member Ung Sau Hong reaffirmed that it will only be possible for residents to purchase live chickens from Sunday, Chinese New Year's Eve.
Asked by reporters whether the bureau would pay compensation to Macau's live poultry vendors who are vnot able to operate over the three days, Ung said the bureau would keep in close communication with them and "try our best to help".
(Macaunews/macaupost)