Caritas Macau's English suicide helpline gets at least 2 calls per day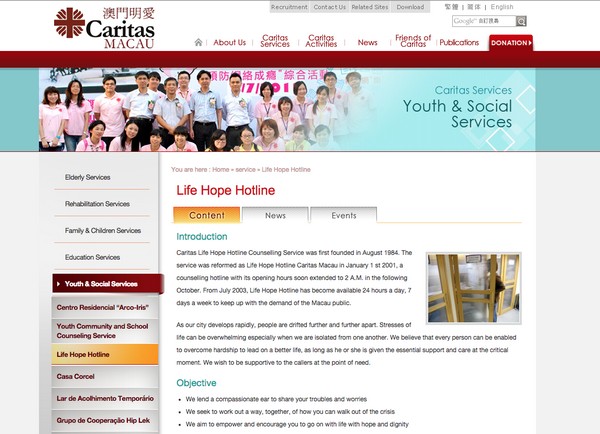 Caritas Macau's English-language suicide prevention hotline, which was launched in mid-June, receives at least two calls a day, Paul Pun Chi Meng, secretary general of the Roman-Catholic welfare organisation, said on Sunday.
Speaking on the sidelines of an award ceremony in Praça do Tap Seac, Pun said he believed that local non-Chinese speakers' demand for the service has been rising.
The "Life Hope Hotline" in English operates between 10 a.m. and 6 p.m. from Mondays to Saturdays. Caritas has been running the "Life Hope Hotline" in Chinese for 31 years. The hotline in Chinese operates around the clock.
According the Pun, there are eight English-speaking volunteers taking calls at the counselling service hotline. "Among them, three also speak Portuguese, one speaks Filipino while one speaks Russian," Pun said, adding that Caritas Macau would like to run hotlines in other languages if there are enough qualified volunteers.
(macaunews/macaupost)